Halloween is the season of ghosts, ghouls, vampires, and witches – when tales of headless horsemen, translucent figures, and things that go bump in the night fill our nightmares and make us hesitant to drive by certain houses and fields when it starts getting dark outside.
Ottawa County is no stranger to scary stories and anecdotes of haunted happenings. In fact, there are legends which are downright frightening.
So, for this Halloween blog post, we invite you to explore haunted Ottawa County… if you dare.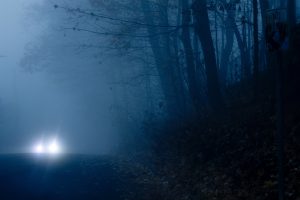 The Elmore Ghost Rider
Sleepy Hollow has the headless horseman.
Elmore has the headless ghost rider.
According to legend, a hundred years ago, an Elmore soldier returned home after World War I, hoping to reunite with his girlfriend. But instead finding her waiting faithfully for him, he discovered that his intended was with another man.
Furious at the betrayal, the soldier rode off on his motorcycle and was so blinded by his anger that he ended up crashing on a bridge. The result was horrific: he was beheaded.
Ever since then (as the story goes), if you park your car near the bridge where he died on the anniversary of his demise, then flash your lights and honk your horn three times, you will see the reenactment of his death.
First, a light will appear – his motorcycle's headlight. Then you'll see the headless rider cross the bridge… and disappear forever….
At least until next year.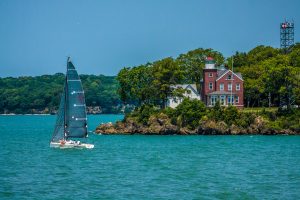 Haunted South Bass Island Lighthouse
Because it's home to Put-in-Bay, South Bass Island might be a popular place to visit for fun, food, and revelry, but if you find yourself there near Halloween, we recommend not going to the historic South Bass Island Lighthouse at night.
Though the lighthouse hasn't been in operation since 1962, it's far from empty – although its keeper isn't exactly… well, alive.
Though no one is really sure who haunts the lighthouse to this day, visitors have reported seeing a ghost throughout the years. Could it be Harry Riley, the first lighthouse keeper who ended up in an insane asylum? Or Harry Anderson, who jumped to his death into Lake Erie in 1898? Or someone else entirely?
One thing's for sure: whoever's keeping the lighthouse, they aren't living.

This photo of Johnson's Island Confederate Cemetery is courtesy of TripAdvisor
Johnson's Island Confederate Cemetery
In Marblehead, Johnson's Island Confederate Cemetery is rumored to be filled with paranormal activity.
Located near the remains of what was once a Confederate war prison during the Civil War, this cemetery is now home to over 200 graves – and several ghosts.
Legend says that if you visit the cemetery at night, you will probably see the ghosts of Confederate soldiers walking around in their ghostly forms.
And then there's the large bronze Confederate statue, right in the middle of the cemetery, which isn't exactly sedentary. Many have reported seeing the statue come alive at night.

This photo of Park Hotel is courtesy of TripAdvisor
The Park Hotel in Put-in-Bay
Since the 1870s, the Park Hotel has been a fixture in downtown Put-in-Bay. Its current owners have worked to retain its Victorian charm so that you feel like you're going back in time the moment you step foot in the Victorian lobby.
But fixtures, antiques, and area rugs aren't the only things left over from the Victorian era at the Park Hotel.
According to hotel lore, the Park Hotel is teeming with ghosts.
The ghost of a former governess who fell to her death is supposed to haunt this beautiful hotel and watch over children who visit the hotel. Guests throughout the years have also reported seeing her apparition in room 14.
And if you stay in room 17, don't be surprised if you look at the window to see the ghost of a former bar owner looking in on you. Per local legend, this ghost committed suicide on the third floor and continues to "serve" guests to this day.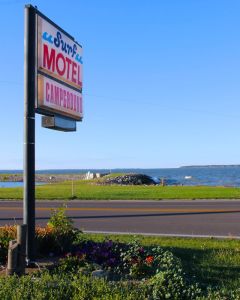 Image Source: Surf Motel & Campground
Surf Motel & Campground
Located right on Lake Erie in Marblehead, straight-out-of-the-1950s Surf Motel has been a lakefront destination for tourists for years.
But not all of the tourists are alive.
In 2005, the Ohio Researchers of Banded Spirits went to investigate the motel's alleged paranormal activity and see if it was, indeed, haunted.
Turns out, it very well may be.
During their investigation, they recorded several ghosts on audio, video, and in photos. Listen to the Surf Motel ghosts speak here or check out the other footage from their visit here.