Winter is almost here, so what sounds better than a warm cup of coffee and a homemade baked treat?
If you're in Ottawa County, you're in luck: there are plenty of local coffee shops and bakeries to visit that will serve up exactly what you need.
For today's post, we're focusing on four of the best bakeries and coffee shops in our region.
Scroll down to learn more about these independently-run businesses, why we love them, and what you must try when you visit!
(A quick note: These are only four of many bakeries and coffee shops we recommend.)
Patty Cakes – Oak Harbor
Where: 114 W. Water St., Oak Harbor, OH 43449
Hours: Monday-Friday from 6 am-2 pm; Saturday from 6 am-12 pm
Phone: (419) 607-6414
Email: pattycakes43449@gmail.com
Facebook: https://www.facebook.com/pattycakes43449
Nestled right in downtown Oak Harbor, this relatively new bakery is owned and operated by Nancy Calvert, who named the bakery in honor of her mother, Patricia Bowen.
Nancy, like her mother, loves baking and wanted to fulfill her dream of starting a bakery to serve the kinds of baked goods her mother loved, too.
This year, her dream became a reality when she opened Patty Cakes.
Best-selling goods like Calvert's cinnamon roll with a maple pecan glaze – along with a welcoming atmosphere, great coffee, and other delicious desserts – bring regulars and new visitors alike to Patty Cakes every day. Except for donuts, everything she serves is made 100% from scratch.
The next time you're in Oak Harbor, you should definitely stop by Patty Cakes and try some of her homemade baked goods. Trust us; you won't regret it!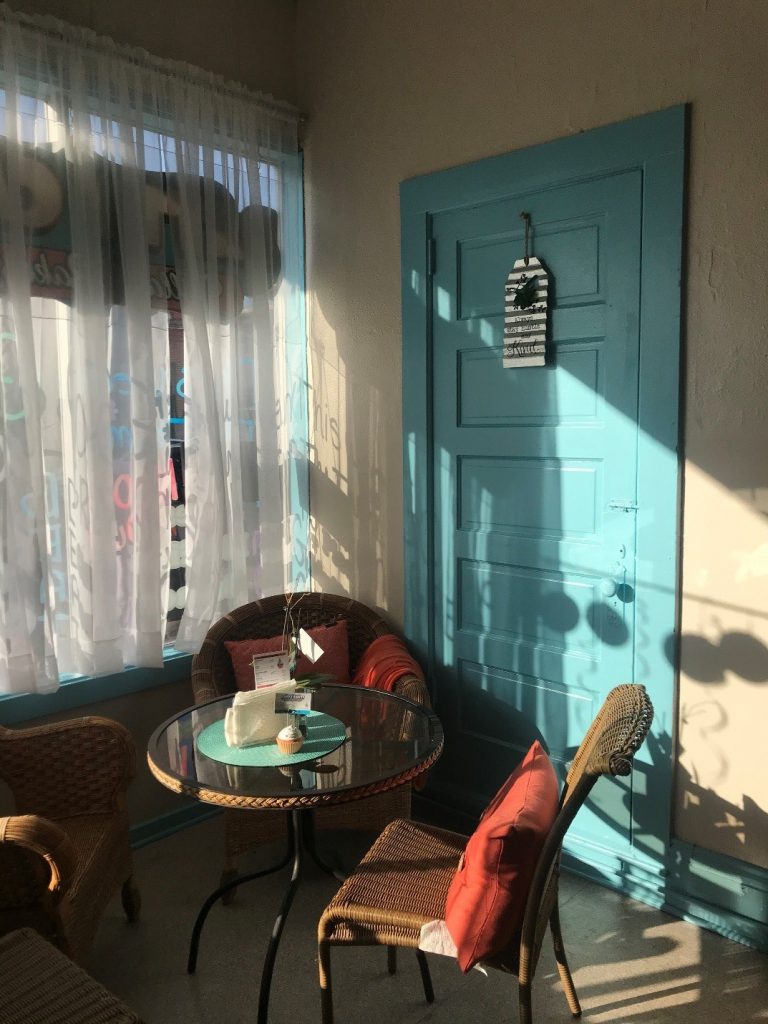 Patty Cakes feels like home the minute you step inside.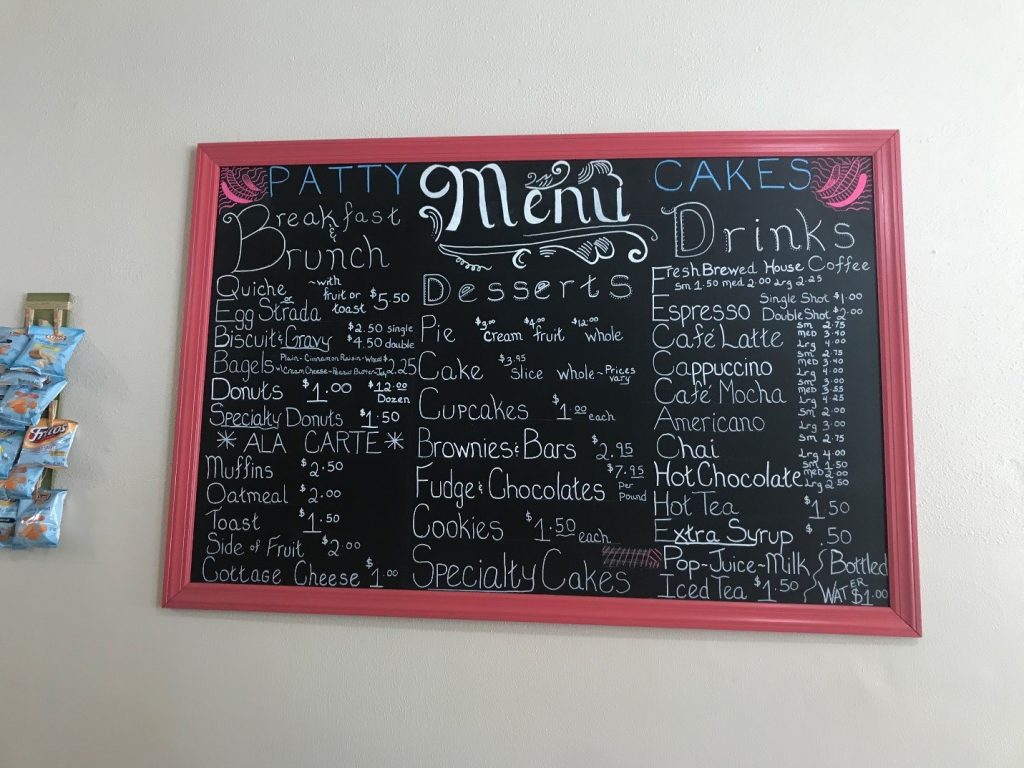 Look at this mouthwatering menu…. We couldn't decide what to order!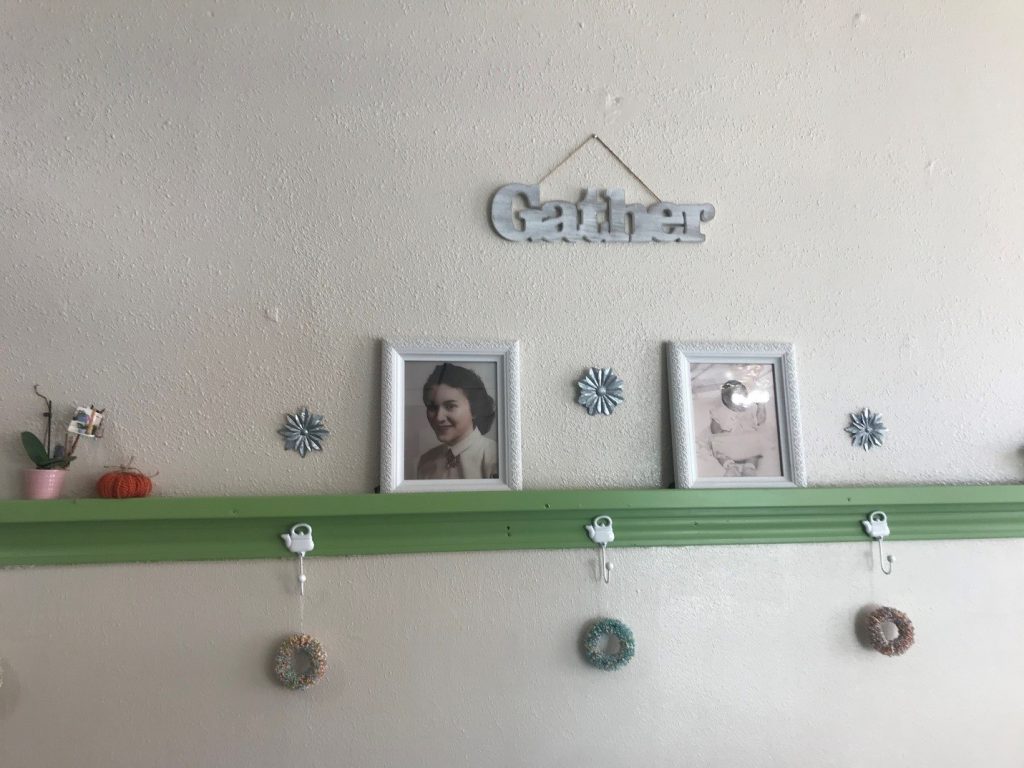 This is a photo of Patty Cakes' namesake: Patricia Bowen, Nancy Calvert's mother.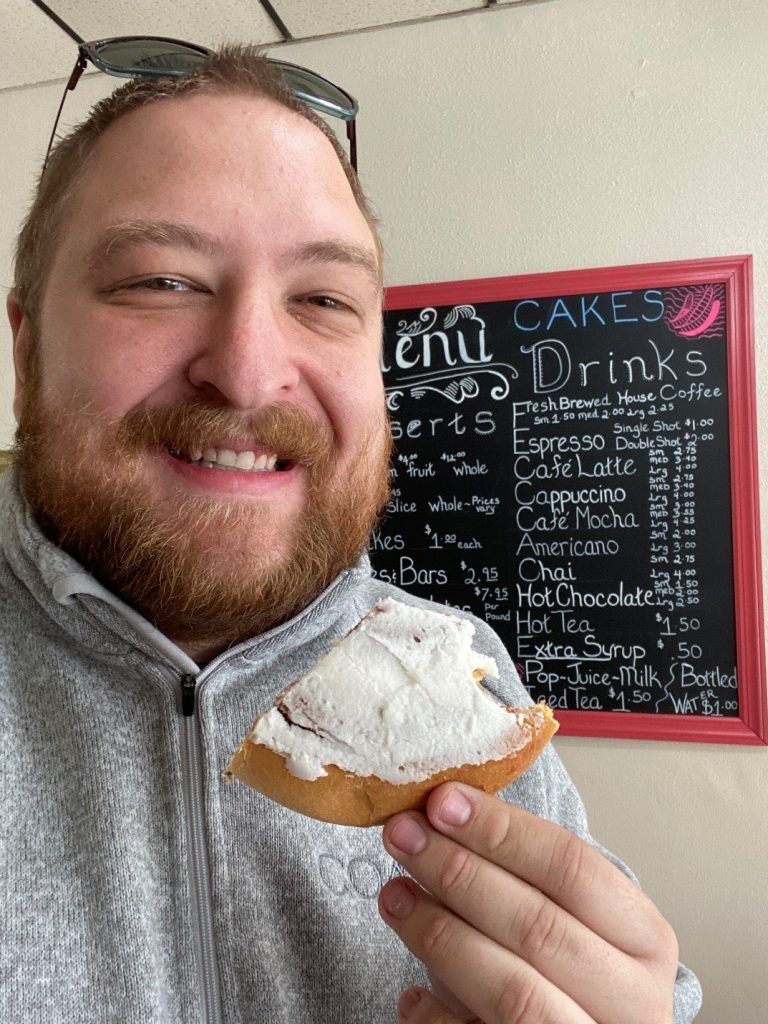 We tried one of Patty Cakes' baked goods, which, in a word, was DELICIOUS.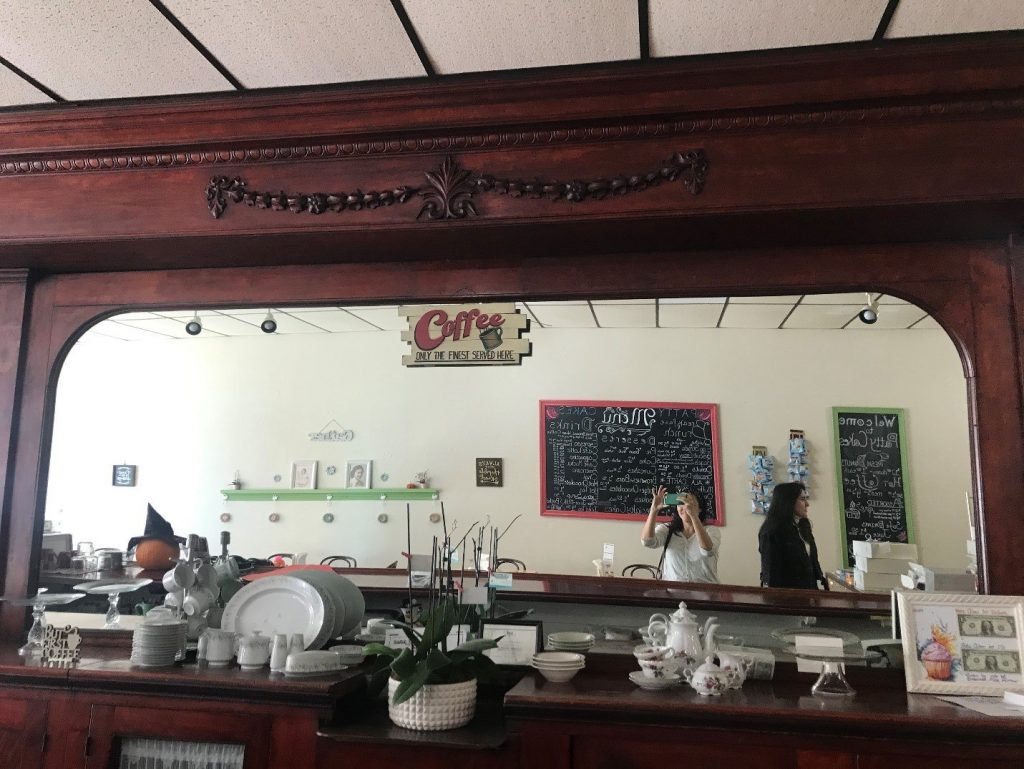 Patty Cakes is located in a cool old storefront. Look at the beautiful mirror (and spot the humble writers in the background!).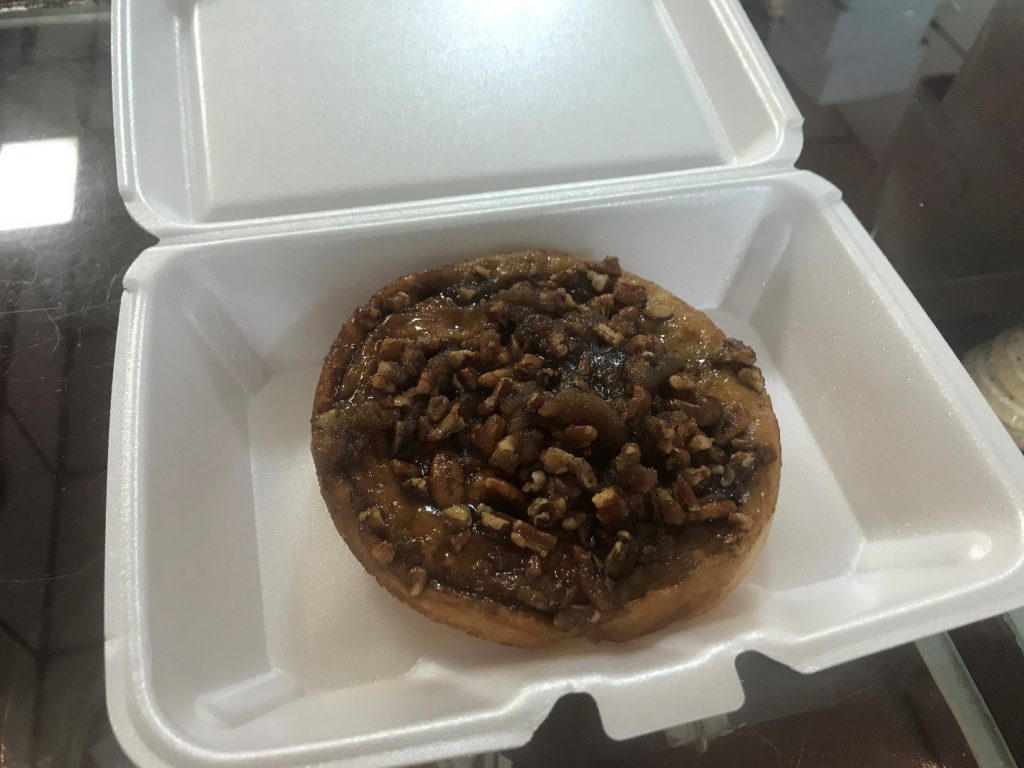 The world-famous – or at least Ottawa County-famous – cinnamon roll with a maple pecan glaze. Y-U-M.
R Coffee Corner – Port Clinton
Where: 3848 Harbor Light Landing Drive, Port Clinton, OH 43452 (Catawba Island Exist ST 53 N)
Hours: Monday-Sunday, 6 am-7 pm
Phone: (419) 734-2030
Email: sherry@rcoffeecorner.com
Website: https://www.rcoffeecorner.com/
Facebook: https://www.facebook.com/rcoffeecorner/
This 2,000-square-foot cafe in Port Clinton is more than just a coffee shop.
Besides offering delicious specialty drinks like the top-selling R Harbor Light Luscious (it's so good, you need to try one!), R Coffee Corner serves breakfast, lunch, dessert, homemade baked goods, adult beverages, and an extensive selection of bubble tea.
(The coffee is absolutely amazing, too! R Coffee Corner works with a local source for all of their coffee: Caruso's Coffee, a family-run company in Brecksville, Ohio.)
Besides food and drinks, though, R Coffee Corner is, first and foremost, a local gathering place for people from the community to come together.
Once a month, you can find 20 or so readers from across the county who meet for Tuesday morning book discussions. Teachers unions, the Red Cross, and businesses often flock to R Coffee Corner for meetings since the friendly ambiance and plentiful supply of open space provide a welcome setting.
And if you're in the area and looking for coffee on the go, R Coffee Corner is a great spot to swing by since it's the only coffee shop in the away with a full-service drive-thru.
Watch Sherry Kaplan Roberts, the CEO of R Coffee Corner, talk more about this Port Clinton staple in this quick video!
Now, let's look at some photos!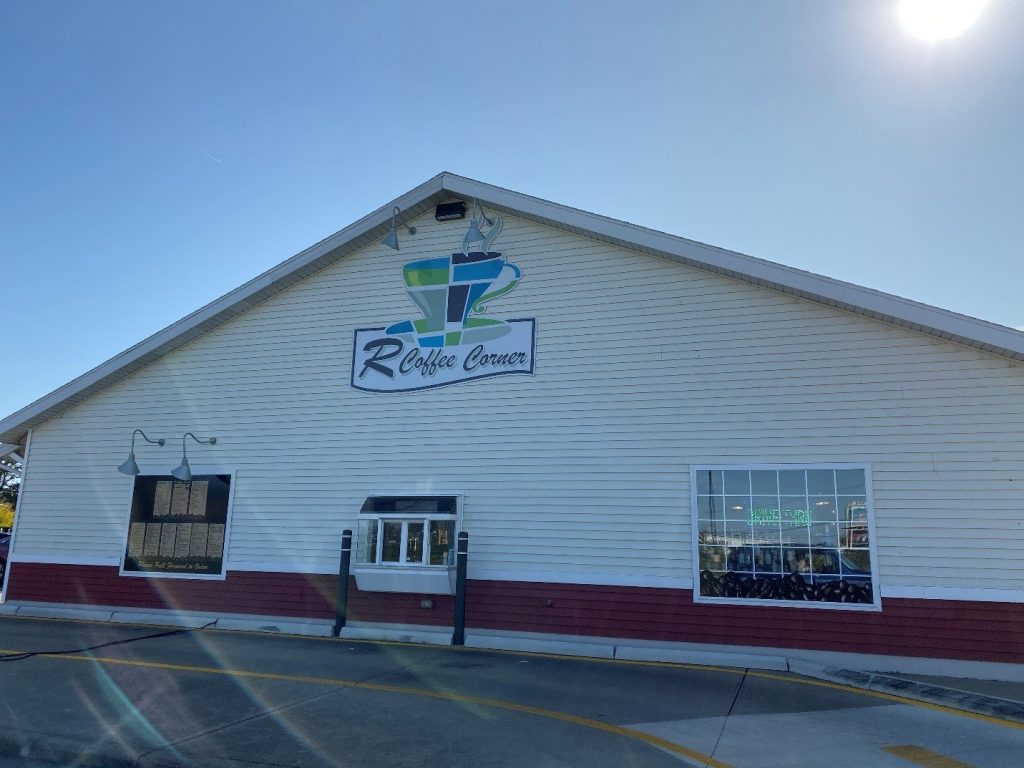 R Coffee Corner has an awesome location in Harbor Light Landing in Port Clinton.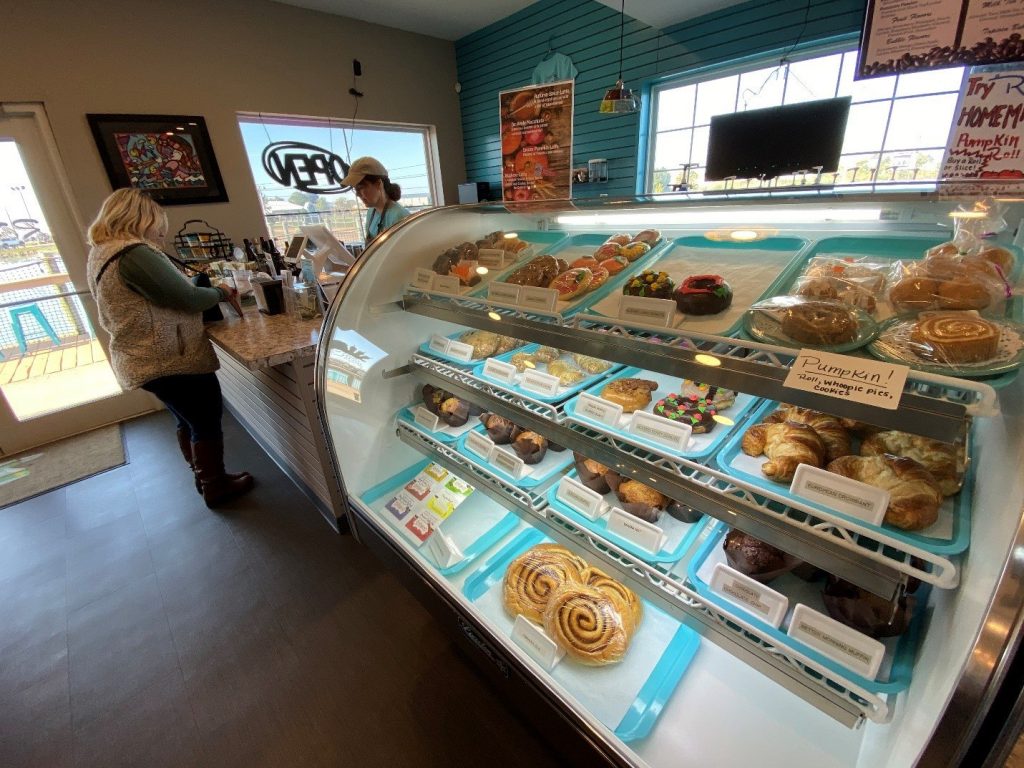 Their homemade baked goods do NOT disappoint!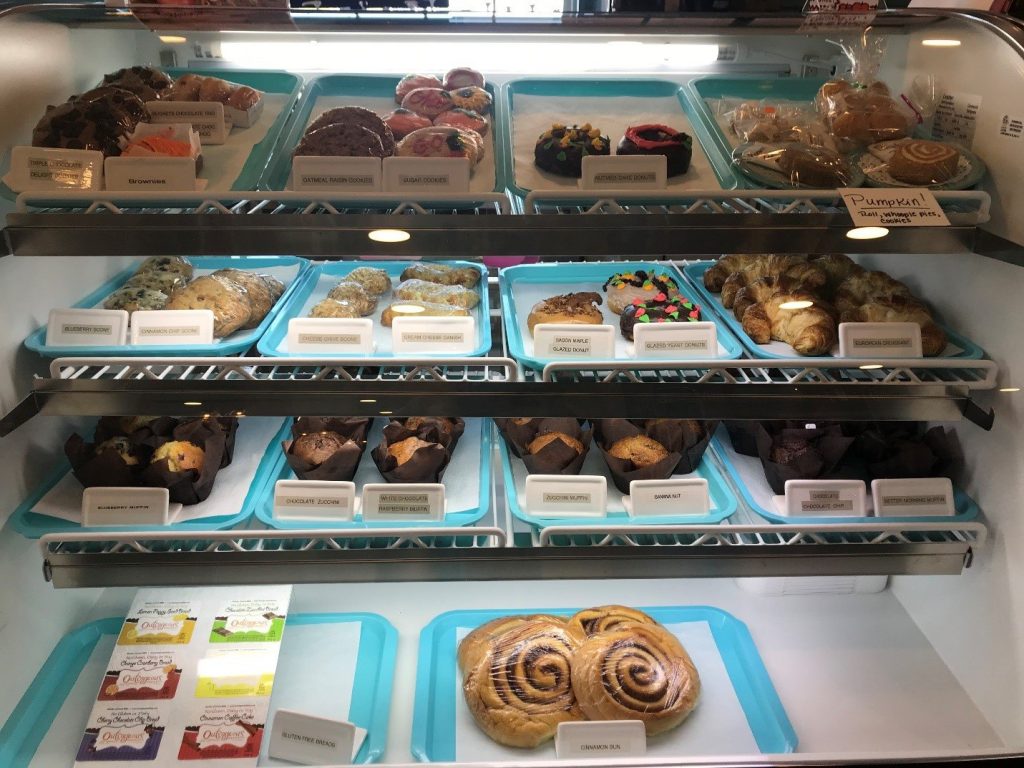 More yummy baked goods!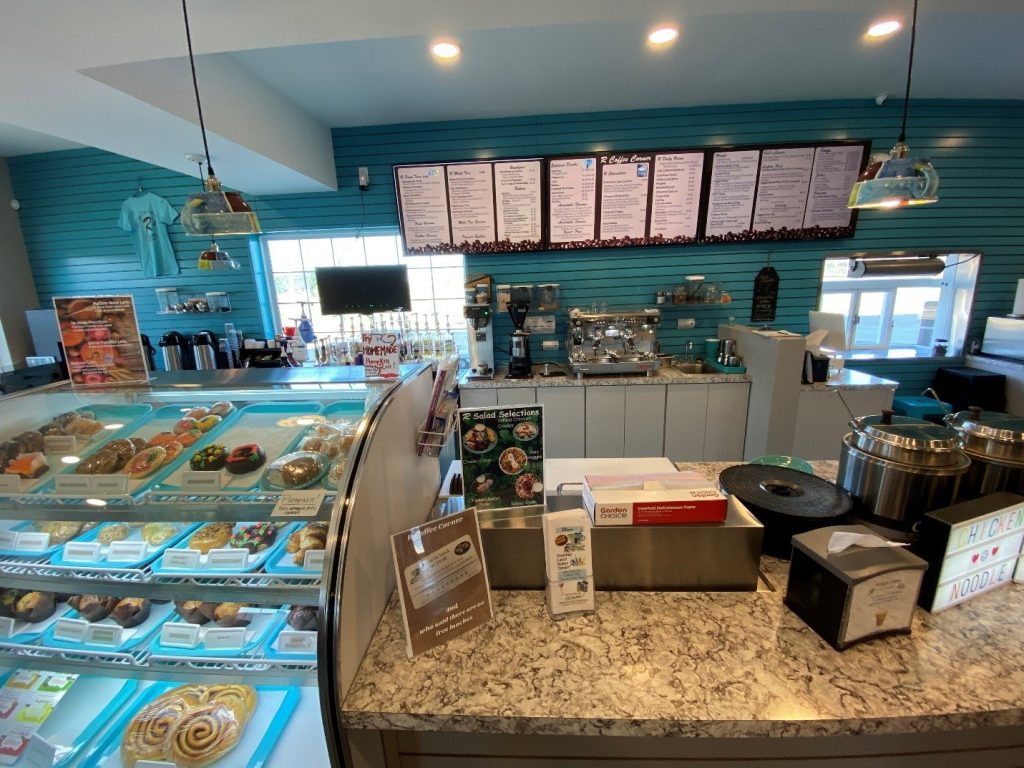 Doesn't the inside of R Coffee Corner make you want to smile?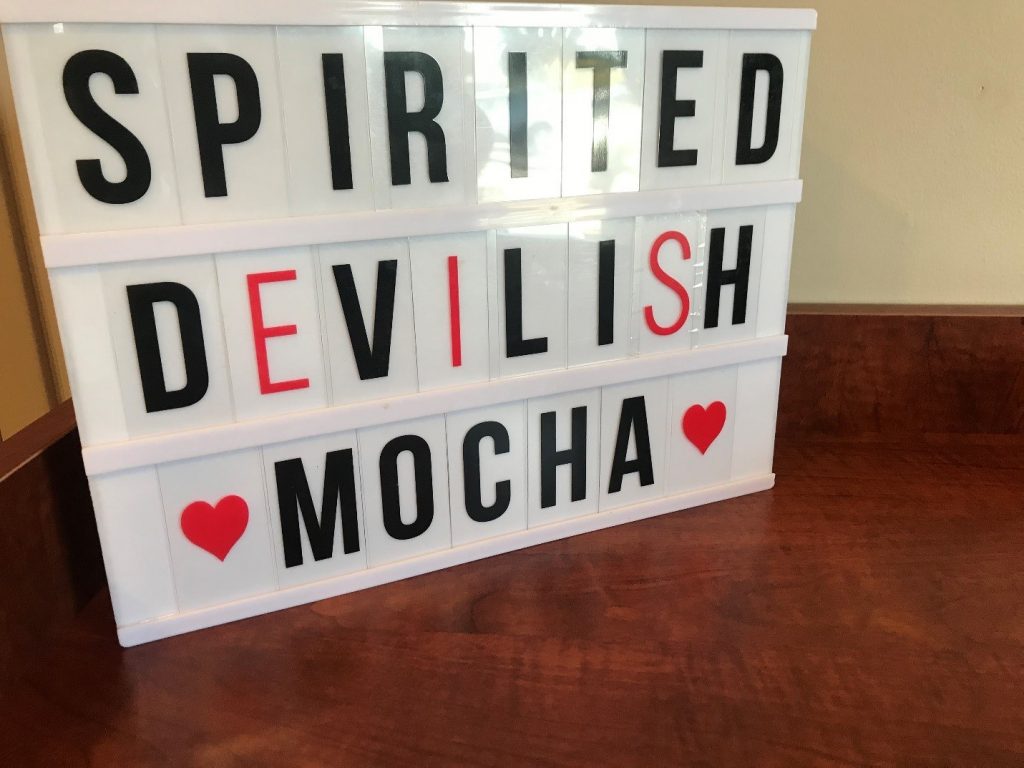 Heck yes for mochas!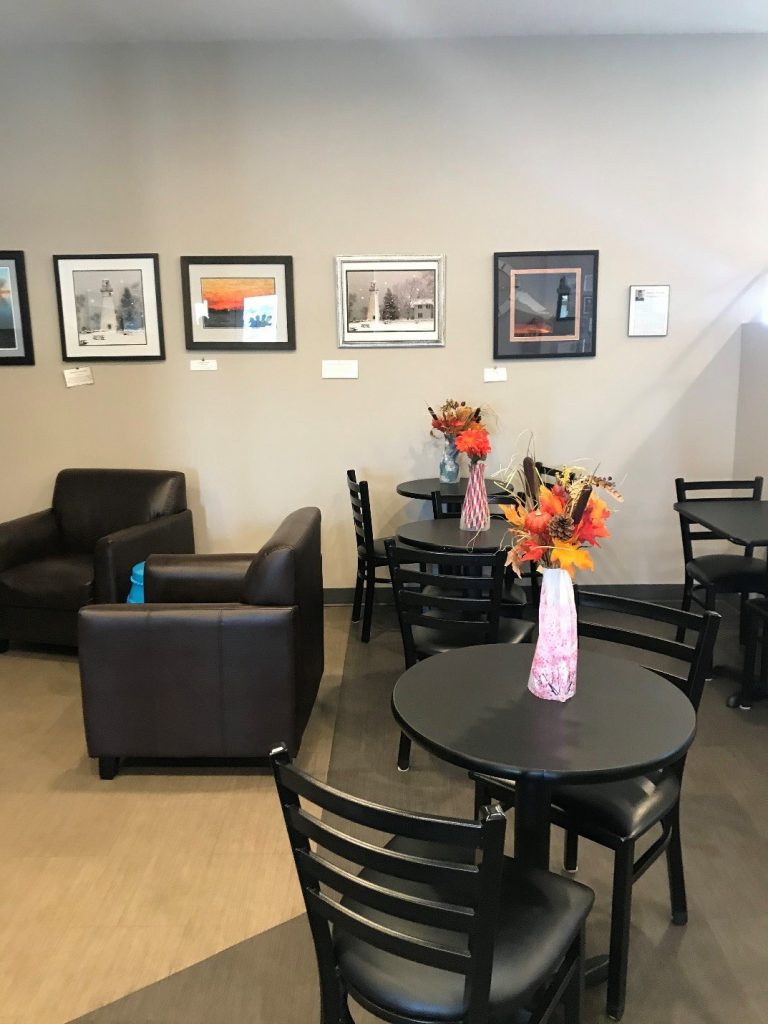 R Coffee Corner has a ton of meeting space and supports the community. If you look on the back wall, you'll see that there are beautiful photos by local artists for sale.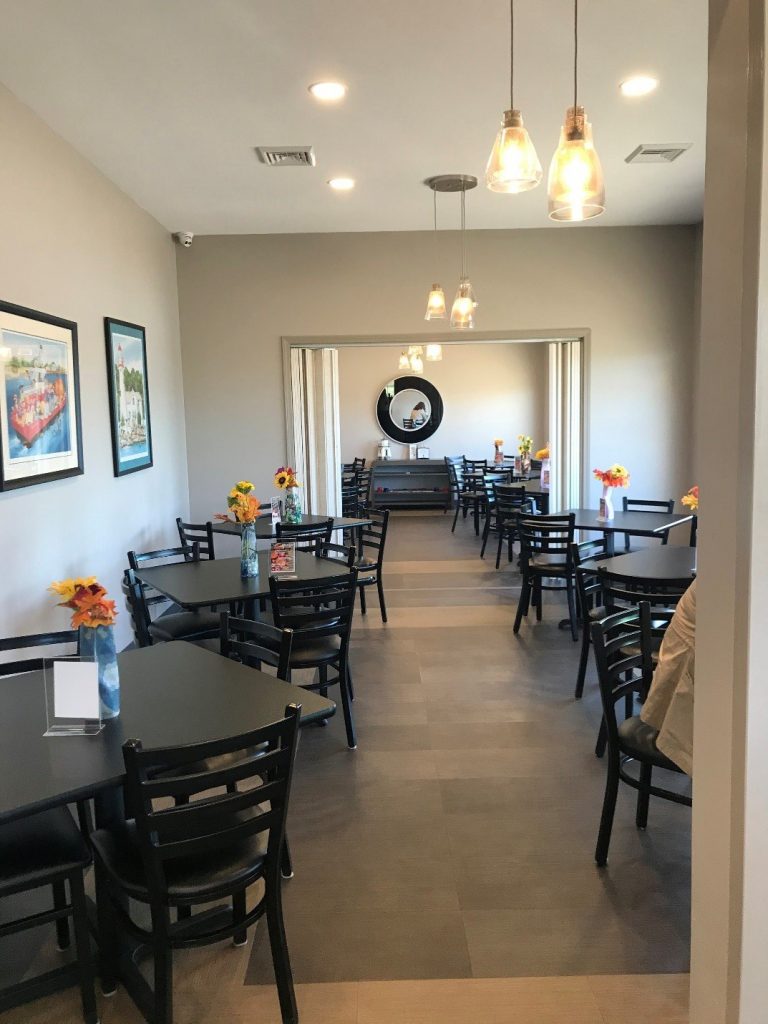 And more space!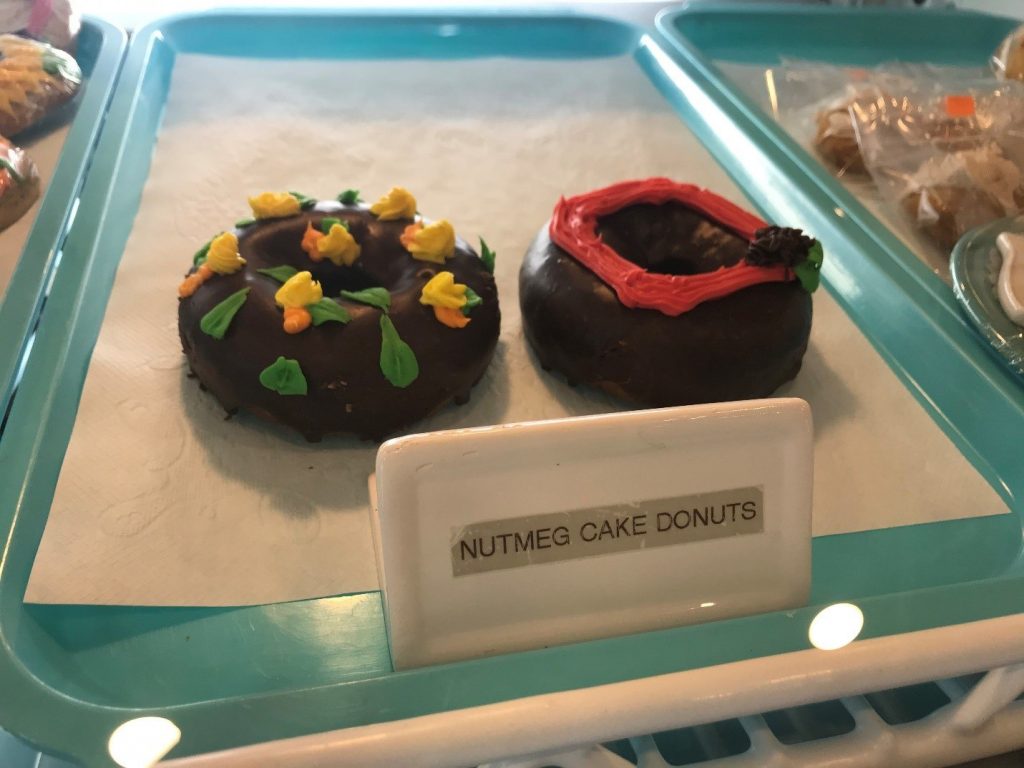 We had to include another photo of their baked goods. Don't these look heavenly?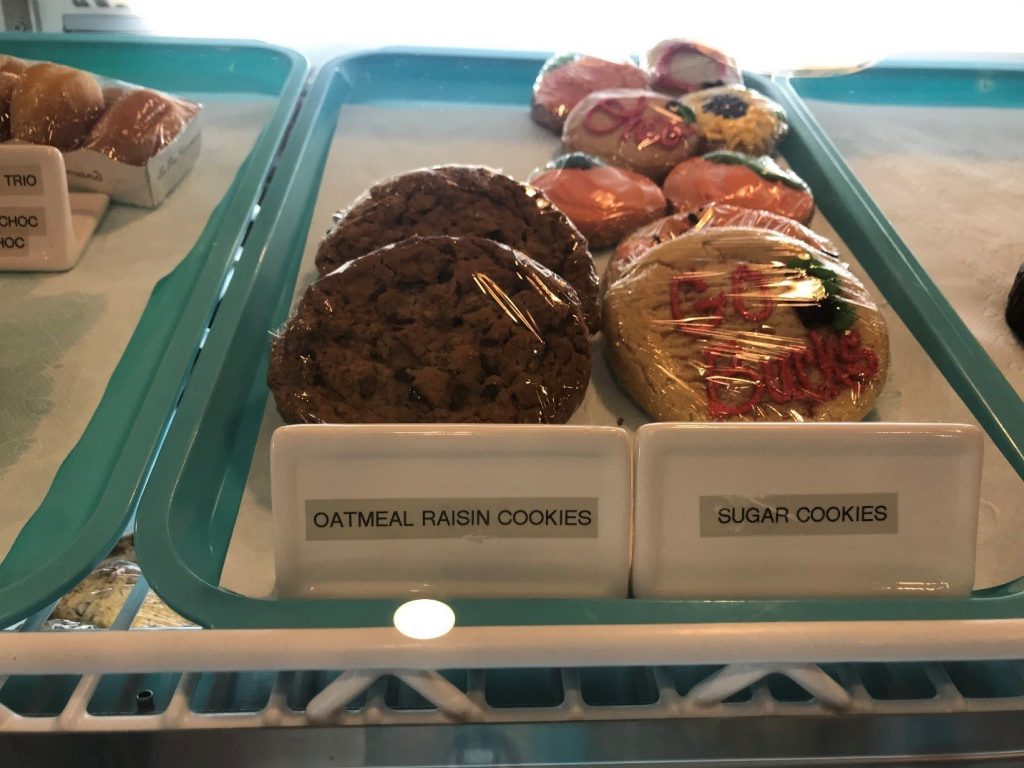 Okay, this is just too much. We want ALL OF THE FOOD.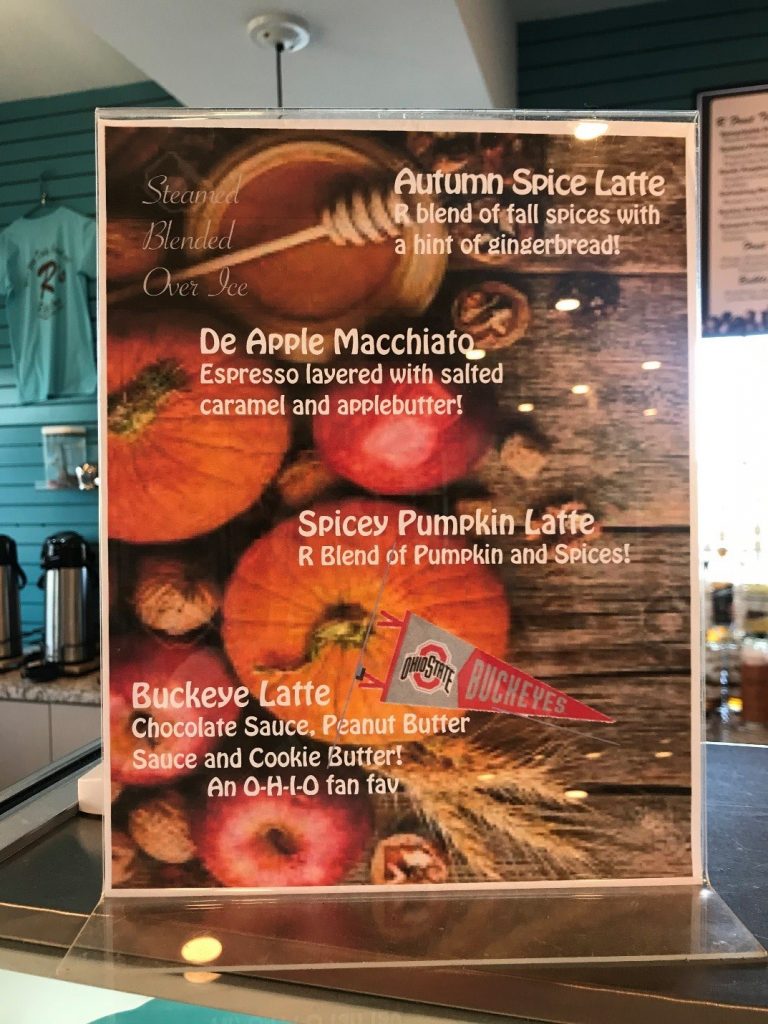 More amazingness. We may just need to go back and order one of everything….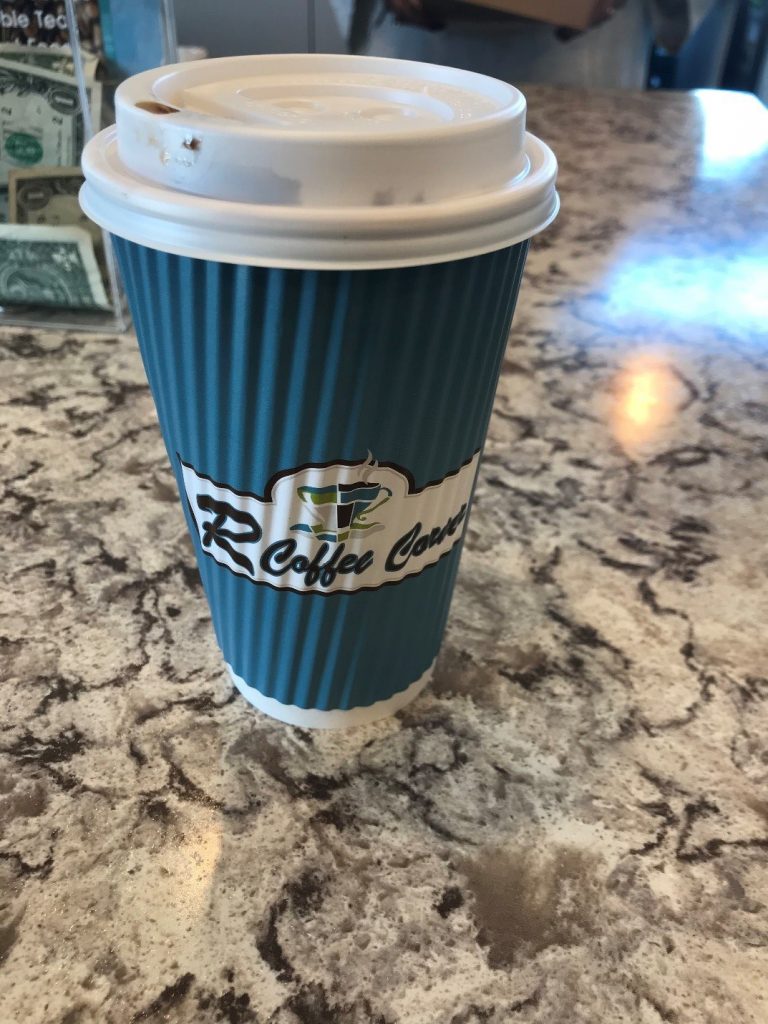 Everyone recommended that we try the R Harbor Light Luscious Latte. Was it worth it? HECK YES.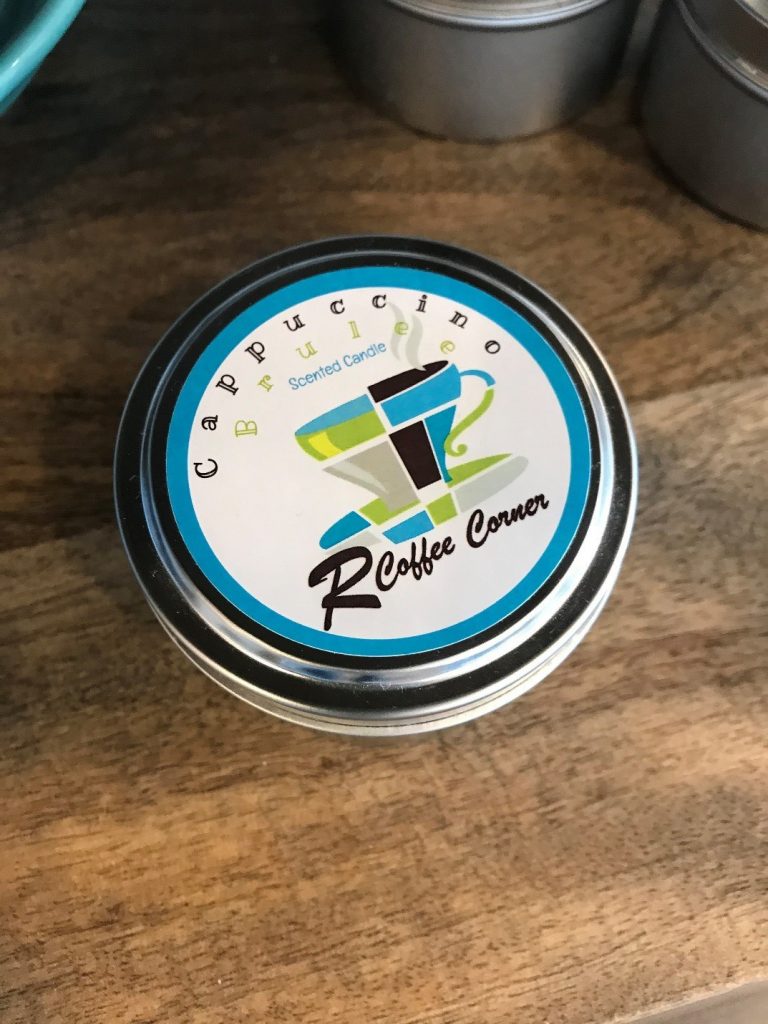 They even sell candles. Mmmm!
Victory Coffee & Company – Lakeside Marblehead
Where: 724 West Main Street, Lakeside Marblehead, OH 43440 (located next to Bruno's in the Howard Hanna Real Estate office)
Summer Hours: Monday-Sunday, 7 am-1 pm
Phone: (419) 702-7071
Email: marbleheadvictorycafe@gmail.com
Website: https://victorycoffeeandcompany.com
Facebook:  https://www.facebook.com/Victorycoffeeandcompany
Found right on Main Street in Lakeside Marblehead, Victory Coffee & Company is a popular destination practically year-round.
In the spring, summer, and fall, it's hopping with visitors from all over the country who travel to northwest Ohio to visit Cedar Point, the Marblehead Lighthouse, and the Lake Erie Islands, as well as go birdwatching and hunting.
But locals love Victory Coffee & Company, too. The coffee shop has its regulars who often gather around in the home-like atmosphere.
Victory Coffee & Company is known for its seasonal beverages like its peppermint mocha and pumpkin spiced lattes. Iced coffees sell like hotcakes during the summer months.
Their pastries, meanwhile, are absolutely scrumptious. Everything is made from scratch, and the cinnamon roll muffins, pumpkin rolls, and sour cream coffee cakes are mouth-watering delights.
Victory Coffee & Company's motto is: "We hope to provide you with a place where you can relax and enjoy your time here with a good cup of coffee and a bite to eat. Our goal is for you to share your experience with others."
Believe us when we say that this coffee shop more than lives up to its mission.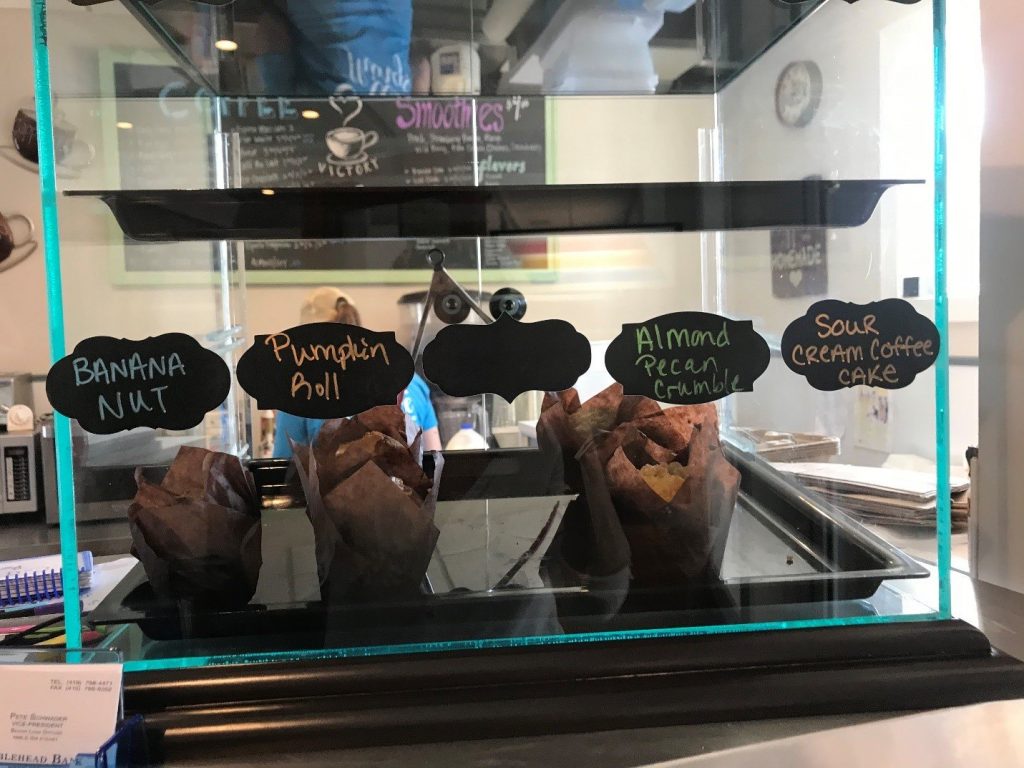 Everything looks – and smells – good at Victory Coffee Shop. Which baked good would you choose if you could?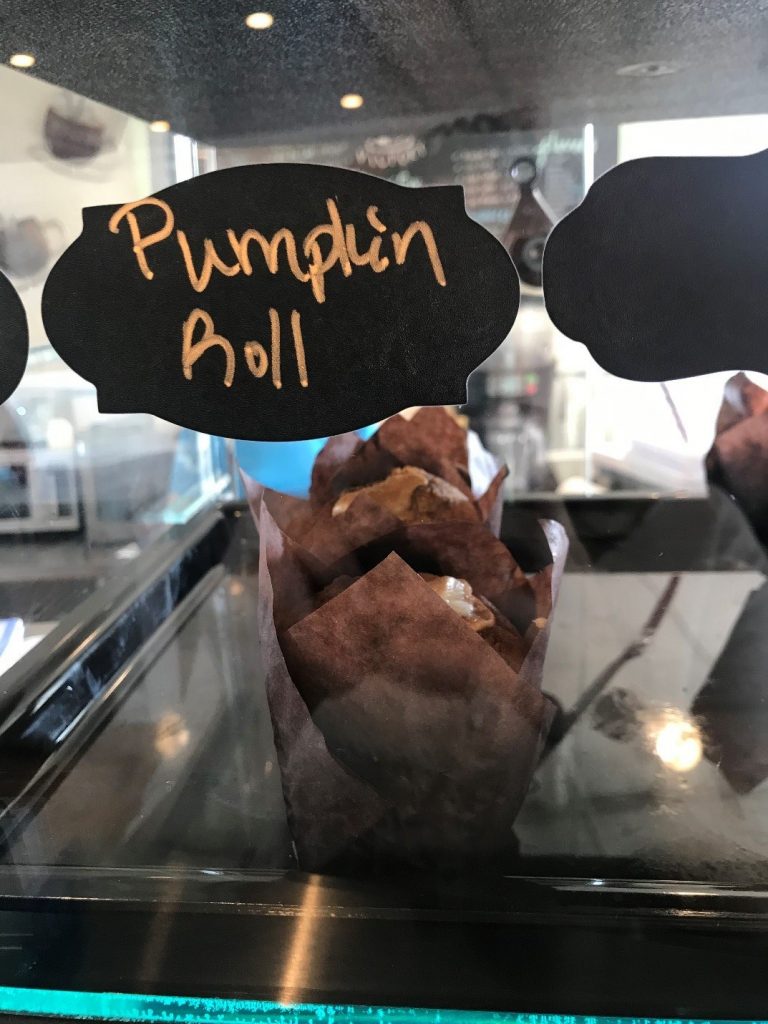 We had to take a closeup of that pumpkin roll. It was amazing!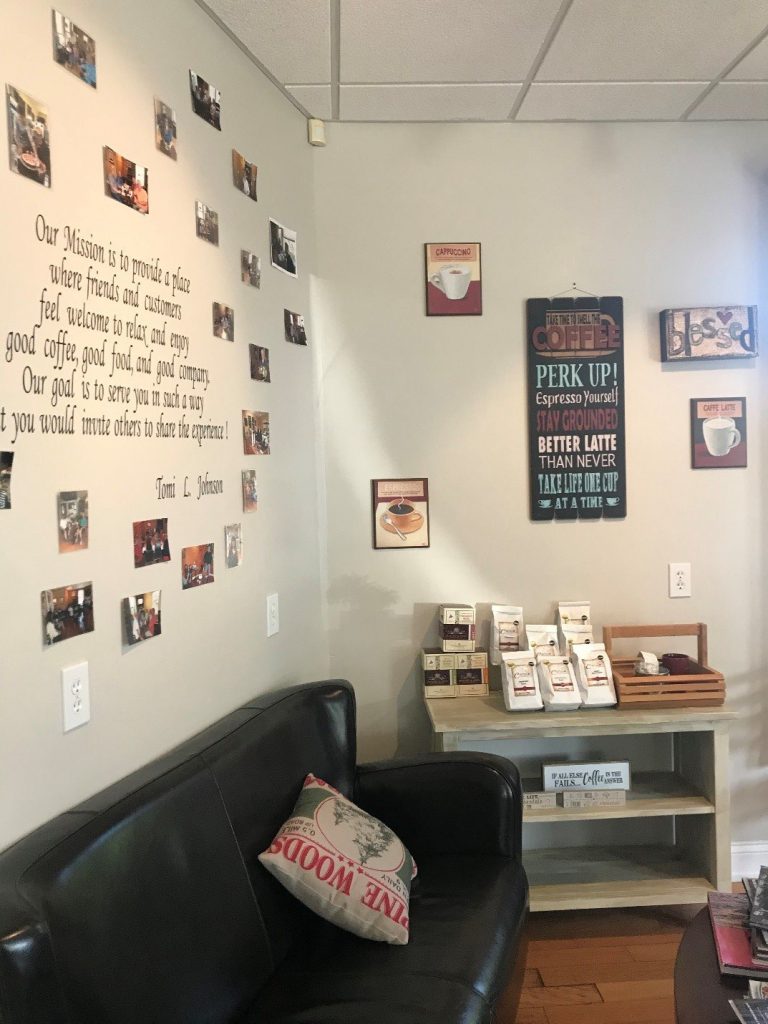 Victory Coffee & Company has a very comfortable, relaxing atmosphere.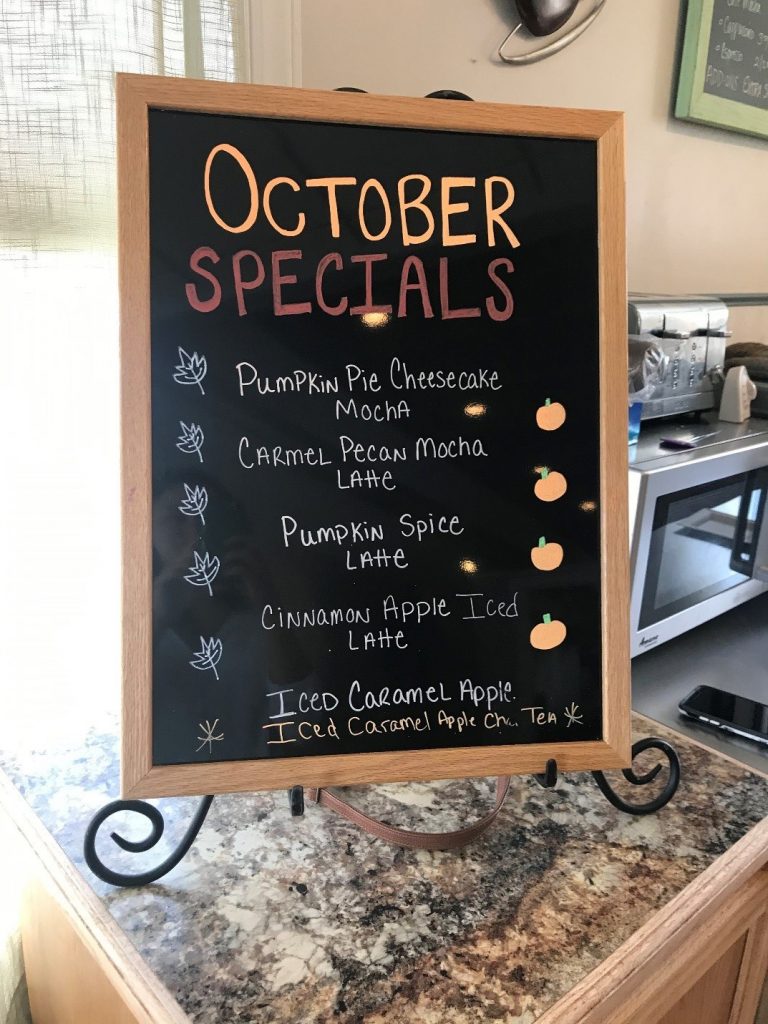 We wanted to try ALL OF THE DRINKS. It was hard to pick what to order!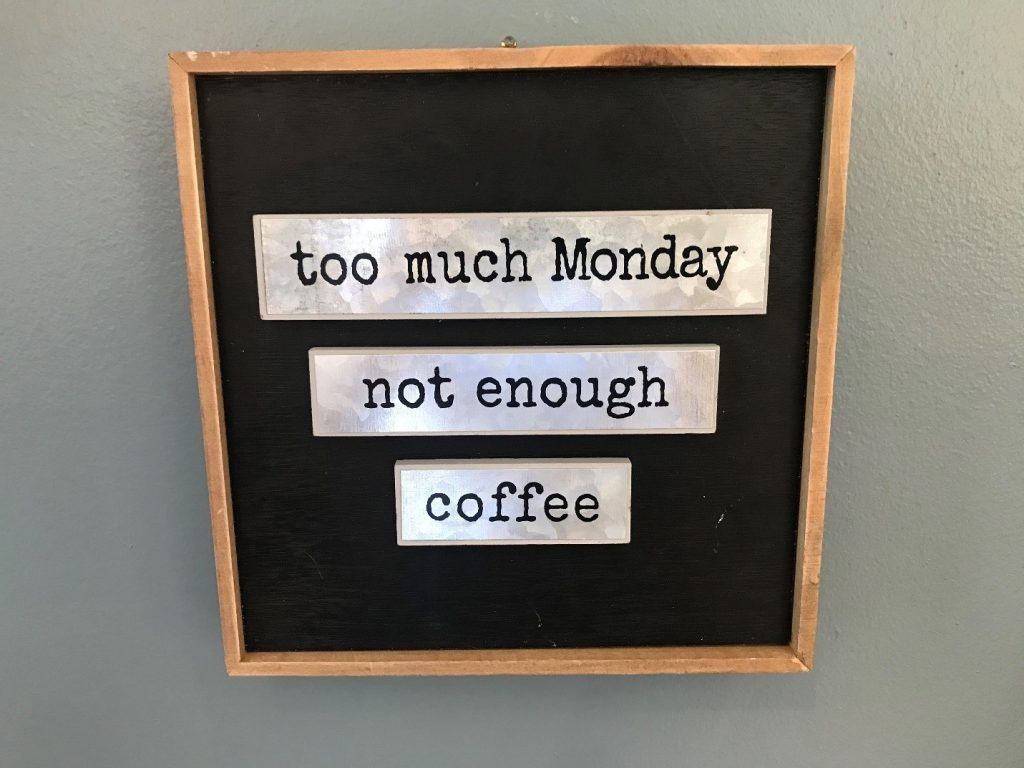 …We agree. Thankfully, Victory Coffee & Company has enough coffee to make Mondays tolerable!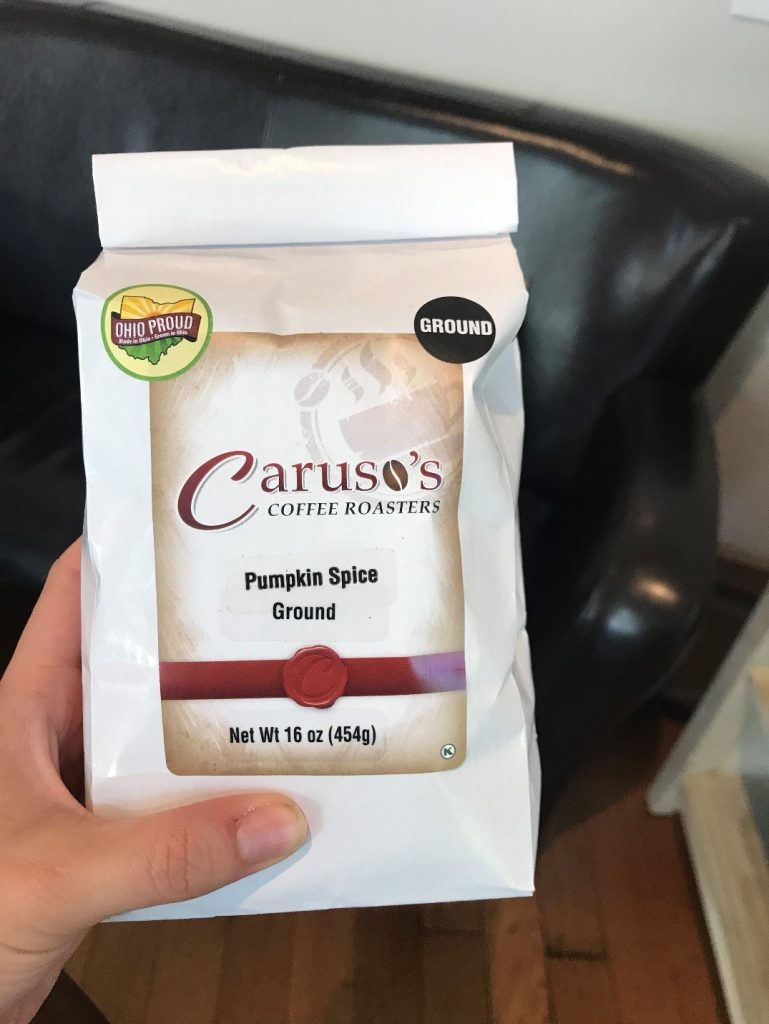 Like R Coffee Corner, Victory Coffee & Company gets its coffee from Caruso's Coffee in Brecksville.  
Christy's Corner Cafe – Elmore
Where: 368 Rice Street, Elmore, OH 43416
Hours: 6:30 am-4 pm, Tuesday-Friday; 8 am-2 pm, Saturday-Sunday; closed Monday
Phone: (419) 862-9091
Email: christyscornercafe@gmail.com
Website: https://www.christyscornercafe.com/
Facebook: https://www.facebook.com/ChristysCornerCafe/
A recent addition to downtown Elmore, Christy's Corner Cafe serves coffee and food for a cause.
The cafe is owned and run by the Engaging Opportunities Foundation, a 501(c)(3) non-profit organization based in Gibsonburg, Ohio.
The Engaging Opportunities Foundation provides meaningful opportunities for individuals with special needs to reach their goals and greatest potential, paving the way to long-term employment while promoting a culture of acceptance and awareness.
This past year, they opened their first job training center and first sponsored business: Christy's Corner Cafe. Individuals with special needs receive on-the-job training at Christy's in various positions.
"The cafe is our first job training center, but the foundation plans to open other businesses in the future," said Christy's Corner Cafe Marketing Coordinator Suzanne Shimatzki. "We don't just want to help individuals get jobs, but help them find a job they are passionate about and that might not be in a kitchen. We are proud of our accomplishments thus far with the cafe, but there are so many more opportunities for us to explore!"
Christy's Corner Cafe was named in memory of Christine "Christy" Bosch. Christy was born with Down Syndrome. Despite her disability, she was able to live life to the fullest thanks to the support and encouragement of others.
This cafe serves local fair-trade coffee from Georgette's Grounds & Gifts in Maumee, Ohio. Georgette's is part of Sunshine Communities, which supports people with developmental disabilities as they live, work and play on their own terms.
Their meal options are excellent, and we definitely recommend that you try their most popular item – their grilled cheese – as well as their famous half soup/half sandwich combo the next time you're in Elmore.
Not only will you get a great cup of coffee and a delicious meal, but you'll know that all of your purchases are going to a great cause!
Christy's Corner Cafe is literally on the corner in downtown Elmore. We loved the retro sign!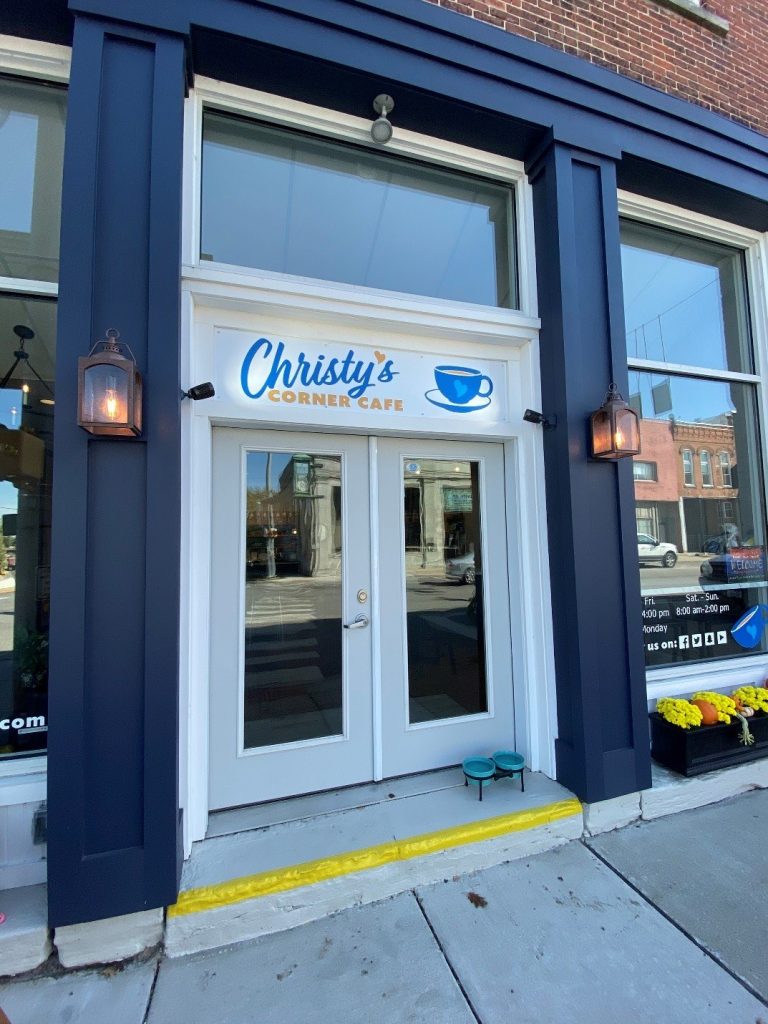 Doesn't the exterior just make you want to stop in?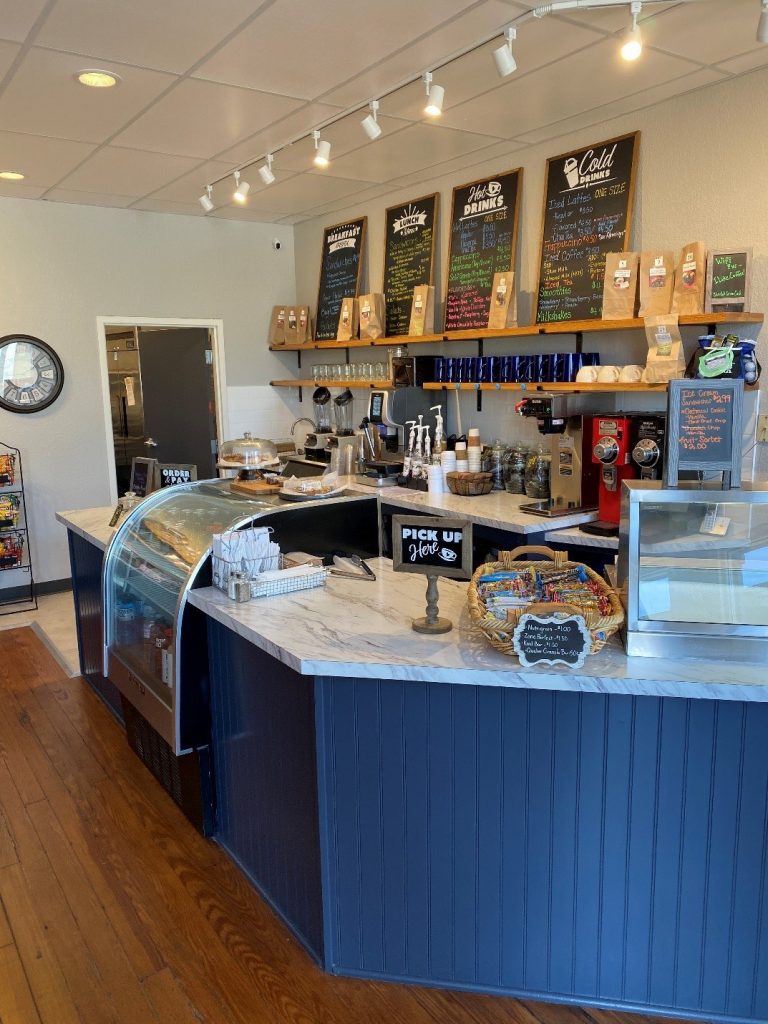 The inside of the cafe is adorable.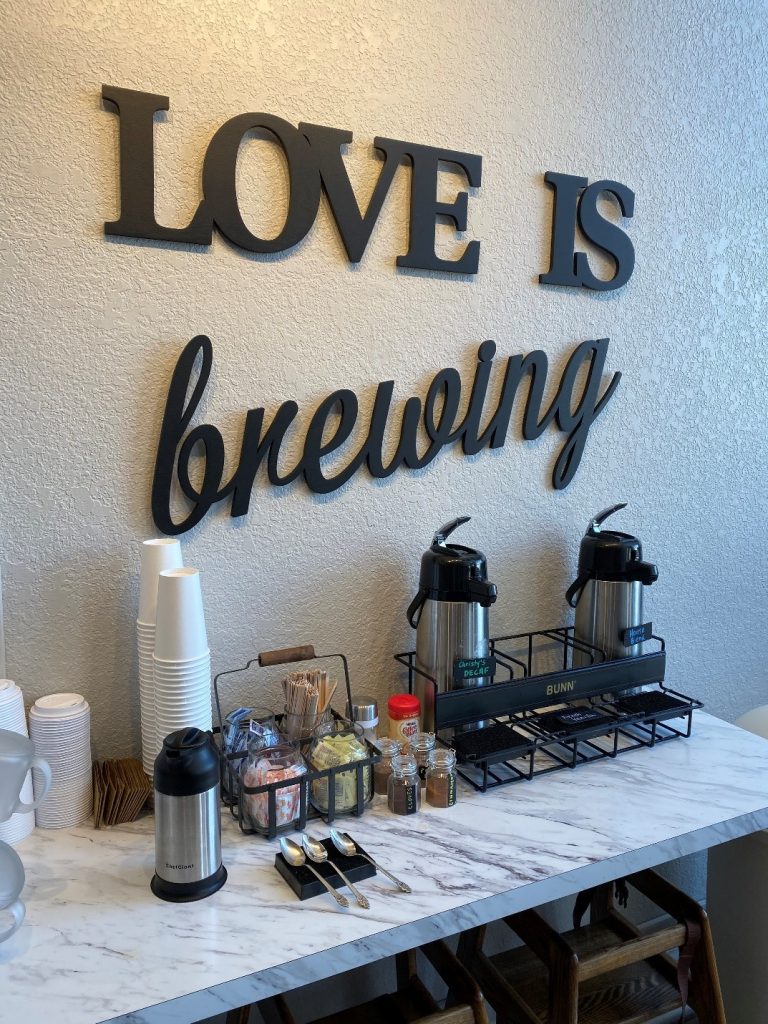 So is delicious coffee from Georgette's!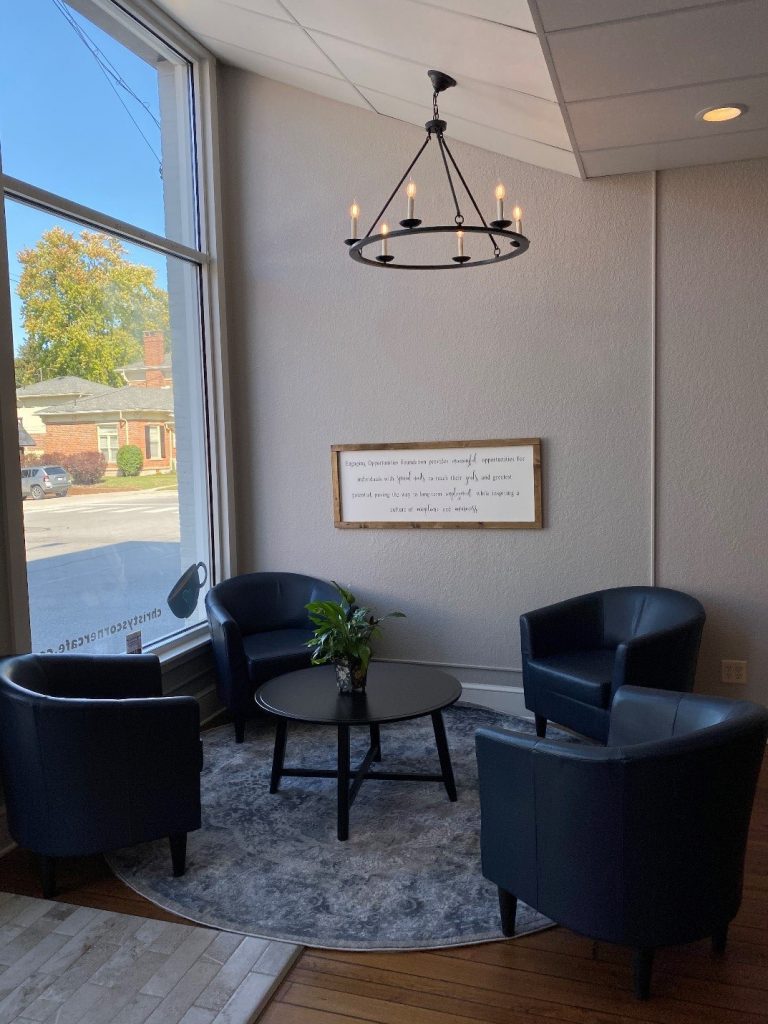 We wanted to curl up in one of these chairs with a good book for the rest of the afternoon.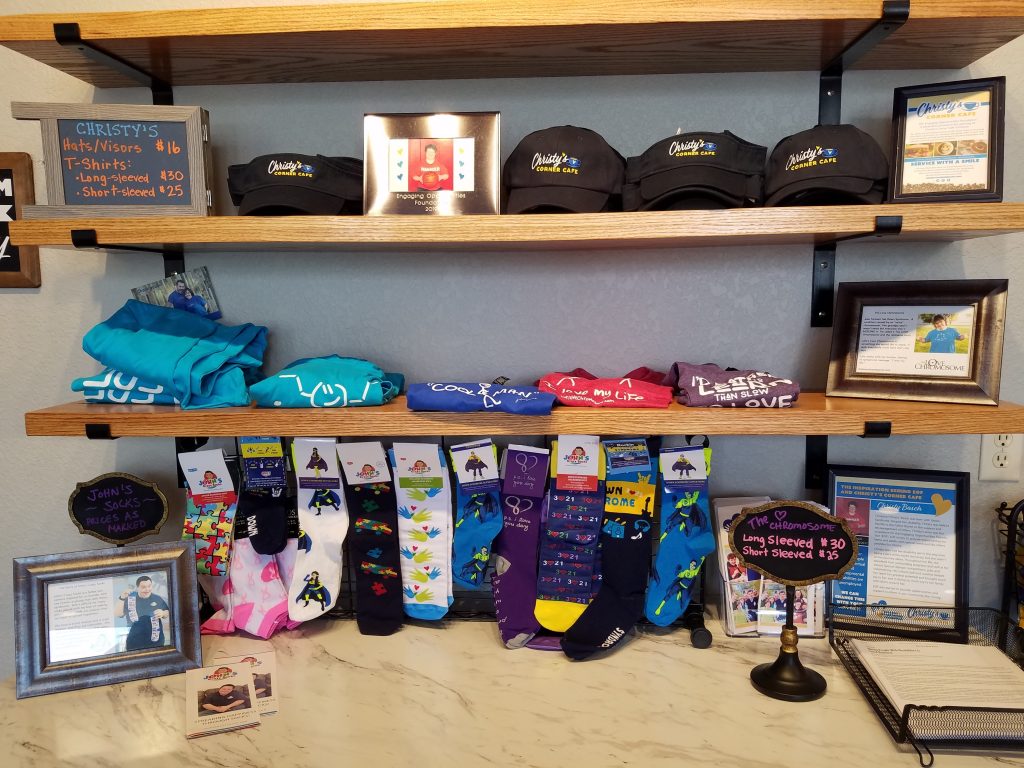 Christy's Corner Cafe also sells items that support other companies that share Engaging Opportunities Foundation's mission the same way they buy their coffee from Georgette's. 
Many of these products are from individuals with special needs that started their own business. Christy's Corner Cafe offers their items in their store to help support their businesses. 
They also sell their own t-shirts, and coming soon, they will have their own coffee bagged for home use as well as other specialty items made specifically for their cafe.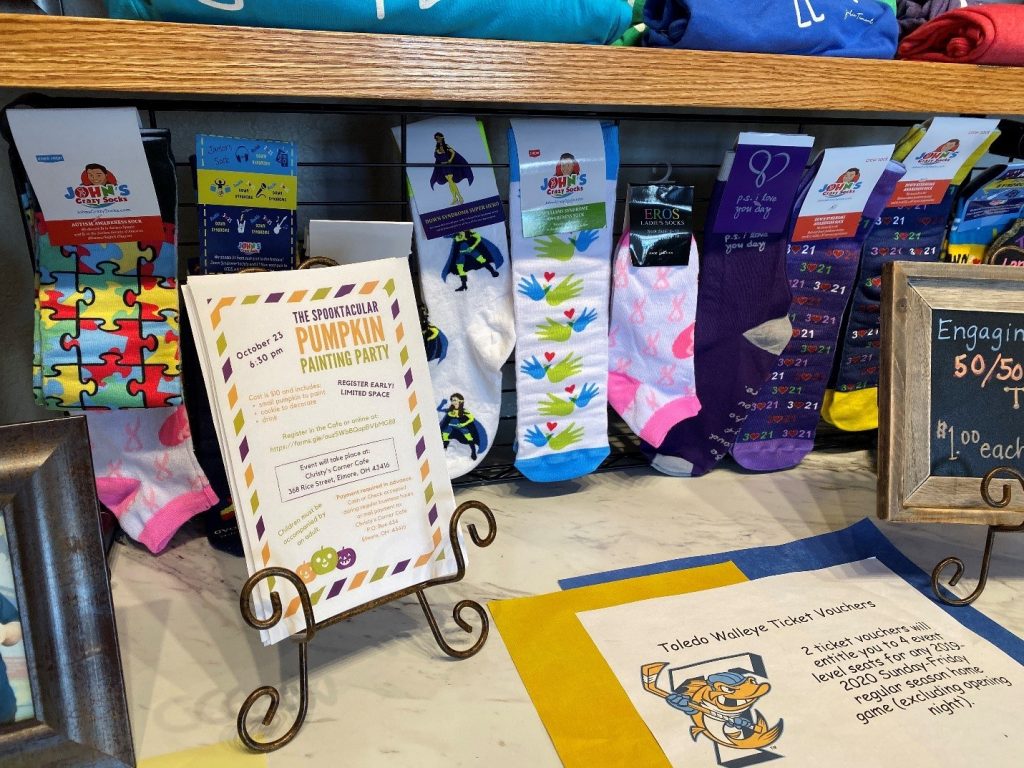 Aren't these socks so cute?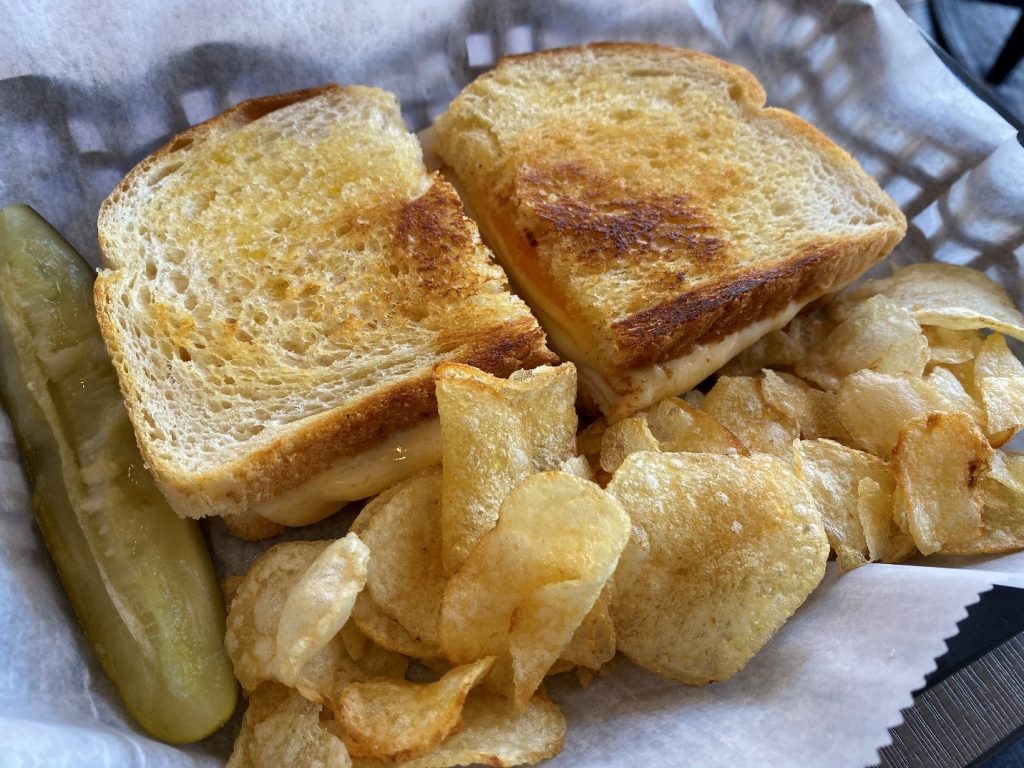 Here's the famous grilled cheese. We scarfed it down!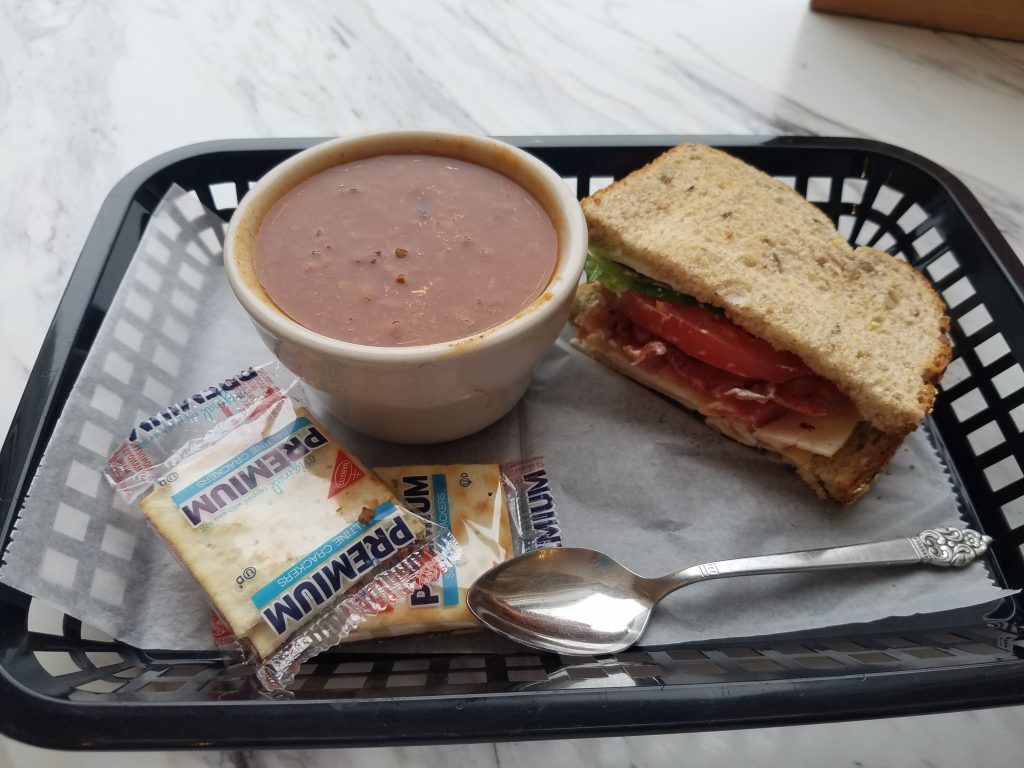 Here's another delicious meal: a half soup/half sandwich combo.  The chili shown in this picture is a personal recipe of one of Christy's special needs employees named Nick.  Nick loves working in the kitchen and was excited to make his personal recipe for us.  Everyone loves Nick's chili!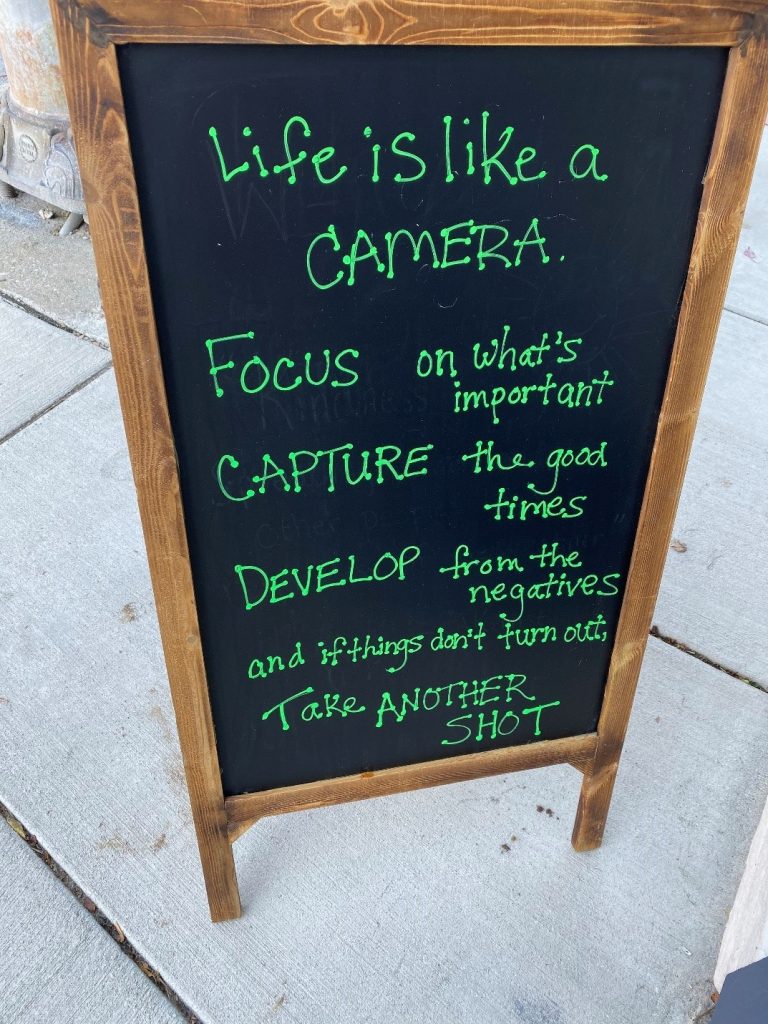 We love their quotes. This one is so true!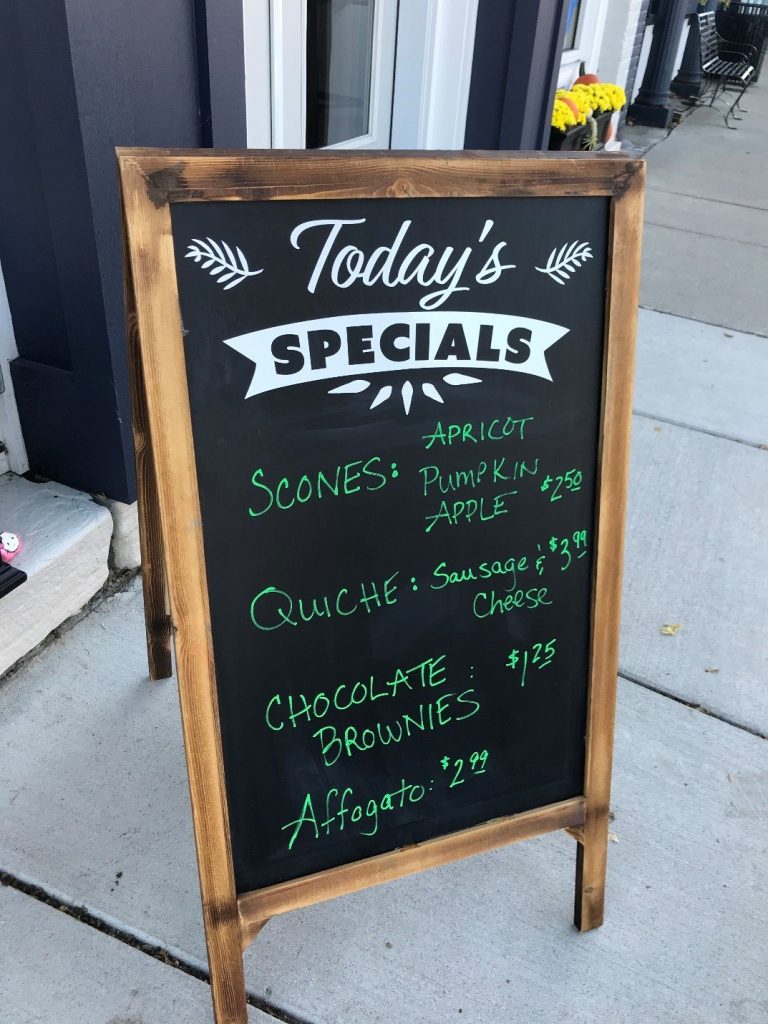 With specials like these, you KNOW you need to visit!
Conclusion
Ottawa County has the best of both worlds when it comes to caffeinated beverages and homemade baked goods. So, whether you're a local or visiting, we advise that you stop by one (or all) of these restaurants whenever you're in the mood for coffee or a baked good!
What are your favorite coffee shops in Ottawa County? Let us know in the comments!