Healthcare is one of the most rewarding – and fastest-growing – industries in the U.S., and Ottawa County, Ohio, is the perfect place to get your healthcare career started.
Whether you're thinking of becoming a nurse, dental assistant, phlebotomist, or a pharmacy technician, there are plenty of opportunities available for you in our region with organizations like Macgruder Hospital in Port Clinton, Otterbein Marblehead in Marblehead, and Trilogy Health Services in Genoa.
But where do you begin? What are some of the first steps you can take to start a healthcare career even before you graduate from high school? And what if you know you're interested in the healthcare industry, but aren't sure what job to pursue?
Don't worry; we've got you covered. Here's the ultimate guide to starting a healthcare career in Ottawa County.
4 things to do when you're in high school.
The great thing about being a student in Ottawa County is that you don't have to wait until you graduate to start exploring healthcare careers.
If you're still in high school, there are some cool options to consider exploring or taking part in that can help you prepare for a healthcare career….
1) Take part in the CEO Internship Program
Offered by the Ottawa County Business Advisory Council (BAC), the Career Engagement Opportunities (CEO) Internship Program gives high school junior and senior students the opportunity to earn high school credits.
The CEO Internship program provides students with a pathway between school and work.  You can develop entry-level skills in a specific occupation (like healthcare), practice career management, and prepare for employment all while earning high school credit.
The CEO Internship has several benefits:
You can earn 1 credit for every 60 hours of internship time.
The internship is flexible and presents a wide range of possibilities for hours/schedules (e.g., can be done after school, during school, weekends, etc.)
The internship gives you an opportunity to "test the waters" of a desired occupation.
Watch past CEO student participants talk about their internship experiences and why they enjoyed them here.
If you are interested in learning more about the CEO Internship Program, please contact Gaye Winterfield at (419) 898-6242 or gwinterfield@ocic.biz. You can also sign up here.
2) Attend the Ottawa County Career Showcase
The Ottawa County Career Showcase is a collaborative effort between the private sector and K-12 education that's hosted by the Ottawa County BAC. This annual event for 10th graders sets the stage for students like you to engage with local companies and learn about career opportunities that exist in the same communities where you live, play, and learn.
If you attend this event, you can participate in different hands-on activities that demonstrate skill sets necessary to excel in a broad cross-section of careers including culinary/hospitality, emerging healthcare, and many others.
Check out photos from past Ottawa Career County Showcases here or watch this recap:
3) Create your backpack!  
A free resource for Ottawa County students, OhioMeansJobs Ottawa County can help you set up an account and a backpack so you can save your career interests, job searches, resume, and more.
OhioMeansJobs also allows you to explore different types of positions and industries that you're interested after graduation.
Create your backpack today, and you can:
4) Job shadow or do a facility tour of a local healthcare employer
Besides the CEO Internship Program and the Ottawa County Career Showcase, you can also take part in a job shadow program or explore a healthcare facility with OhioMeansJobs Ottawa County.
Sign up here to get started!
Explore different jobs.
The next part of this guide will focus on different ways you can explore healthcare occupations to learn more about them and see what job could be best for you. Note: this is applicable to anyone of any age.
Search for occupations at OhioMeansJobs.com
The state of Ohio has an excellent free resource for exploring different careers, their job outlook, the average wages, and more at OhioMeansJobs.
Begin by visiting their Occupation Search page.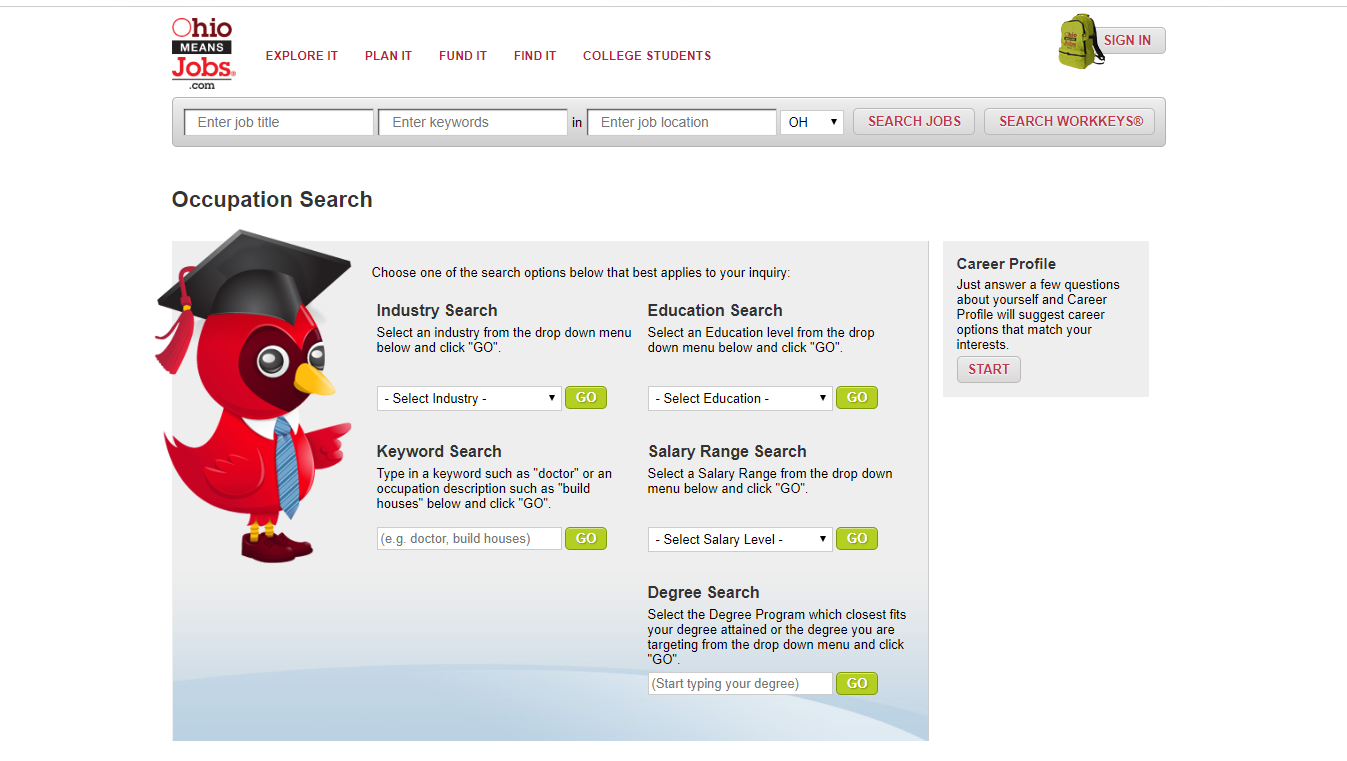 Now, it's time to search!
For example, if you enter in "healthcare" where it says "Keyword Search," you'll see a number of different job opportunities with the Ohio average yearly pay: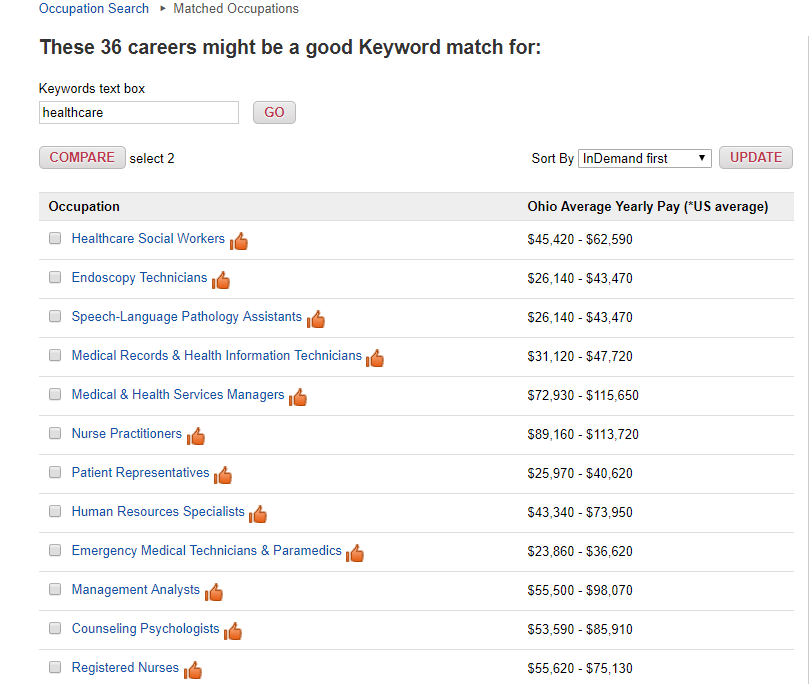 Let's say you click on "Registered Nurses."
You will see the work activities, typical education, pay, employment trends in Ohio, etc.: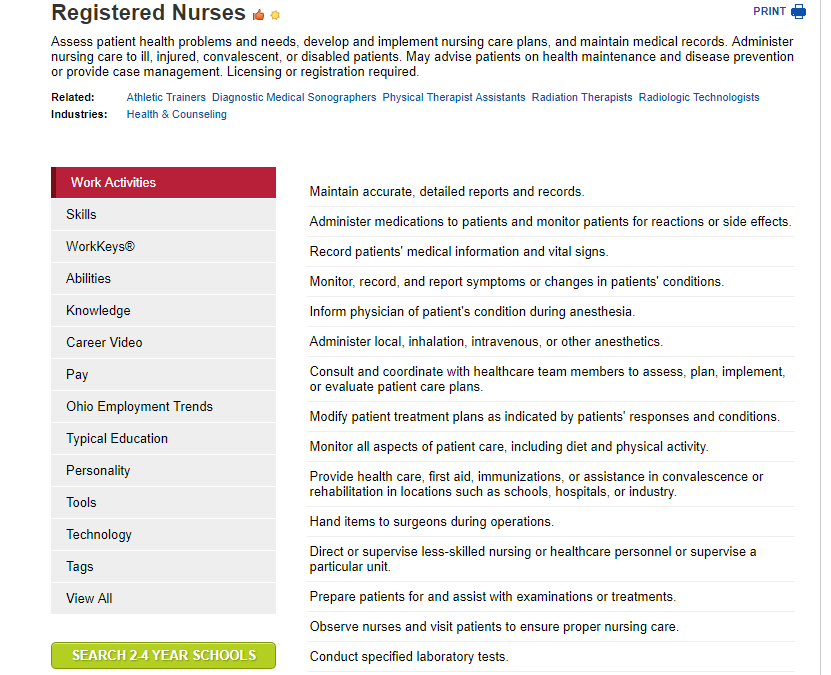 You can also look at similar or related healthcare careers like physical therapy assistants, radiologic technologists, and athletic trainers.
Try another free resource like www.bls.gov
Besides OhioMeansJobs, there are many other websites out there where you can research different healthcare careers to your heart's delight. The U.S. Bureau of Labor Statistics (BLS) Occupational Outlook Handbook is super easy to use to explore occupations.

For instance, if you look up information about physical therapist assistants and aides, you'll be able to skim through tons of valuable information: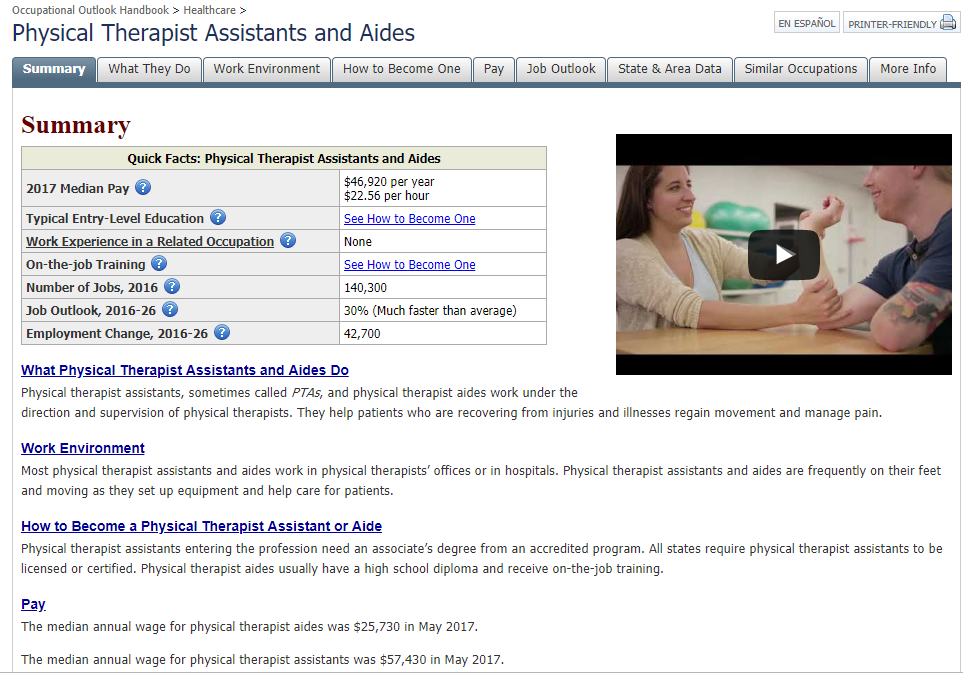 Check out O*NET OnLine
Similar to OhioMeansJobs and the BLS Occupational Outlook Handbook, O*NET OnLine is an excellent alternative to use to search for different types of careers.
Let's say you visit and look up "home health aide" in the occupation search area. The summary report will show you everything you want to know about this career option such as the skills needed, detailed work activities, work values, projected growth, wages, etc.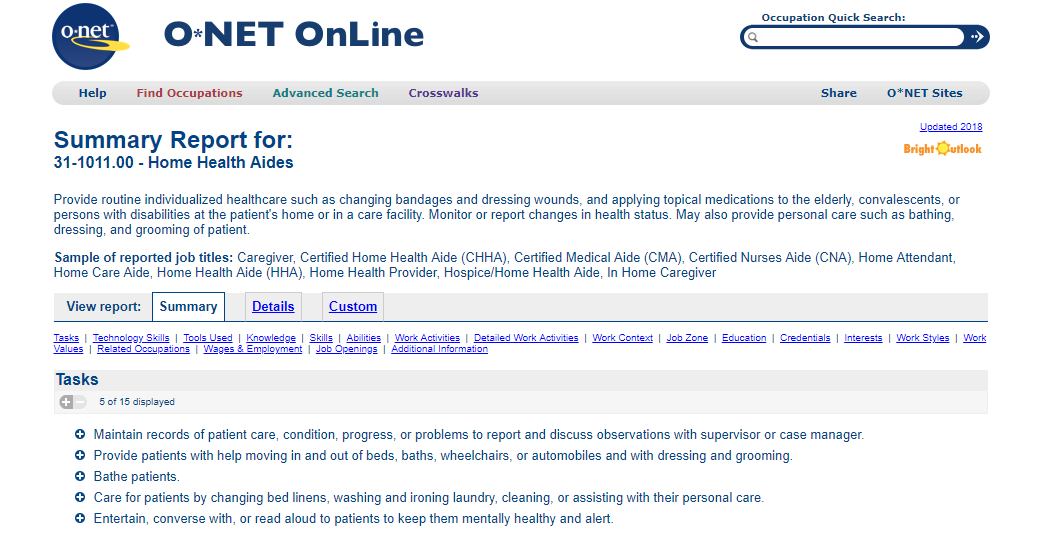 Search for different training and degree programs.
Most healthcare careers require some kind of education, from a short-term training program like certified nurse aide training to bachelor's, master's, and postgraduate degrees.
Once you've figured out what you want to do, it's time to look into the different schools and programs you can attend to achieve the necessary education for the occupation you want.
Here are a few resources you can use….
OhioMeansJobs Occupation Search
Let's go back to the search for information about registered nurses at OhioMeansJobs. Just click "Typical Education," and you can sift through different programs.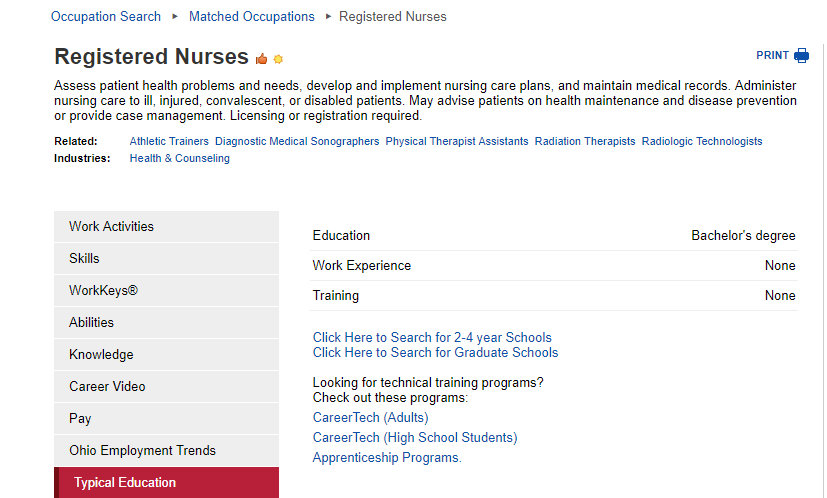 If you choose "Click Here to Search for 2-4 year Schools," you'll be directed to the College Finder for registered nurse (RN) programs.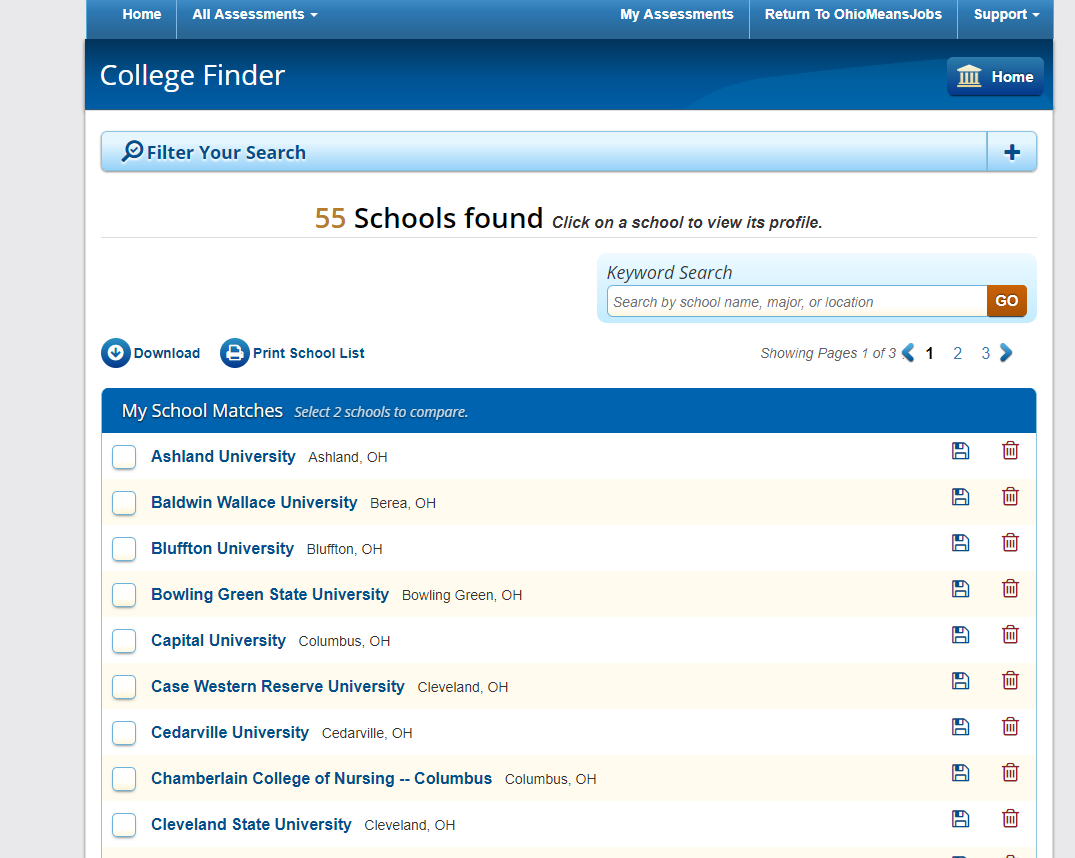 Let's say you click on Bowling Green State University (Bowling Green, Ohio).
You'll get a great snapshot of information about the school as a starting point: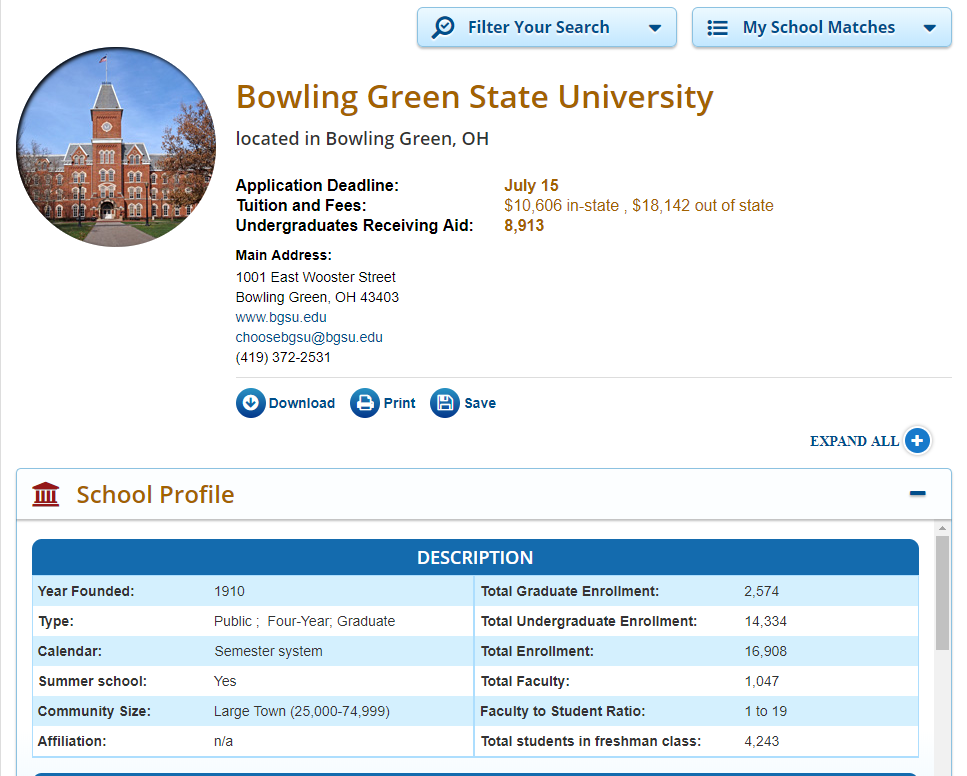 Use CareerOneStop to look for local and out-of-state programs
CareerOneStop is another website worth bookmarking to look up career information – including local training programs.
First, visit https://www.careeronestop.org/FindTraining/find-training.aspx
Then look up an occupation/school/program type and a location.

For example, you might look up "ultrasound technician" near Port Clinton, Ohio.
You will find a list of schools: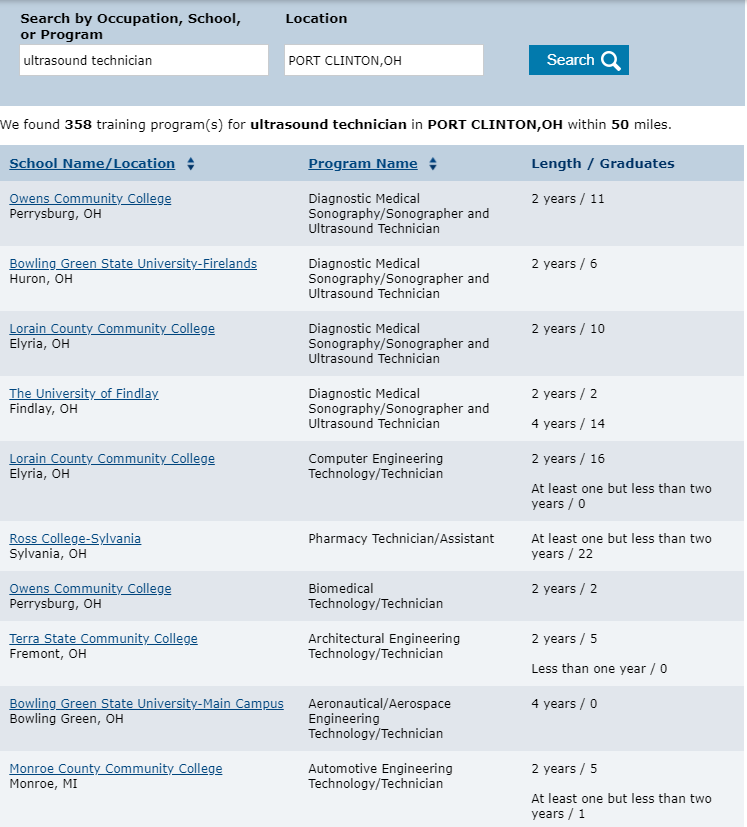 But you don't have to just look for local programs; if you want to spread your wings and go out of state, you can also use CareerOneStop to look for programs in any part of the country.
Want to stay in-state? Visit Ohiohighered.org
The Ohio Department of Higher Education has a list of all of Ohio's public institutions (universities, community colleges, and adult workforce education and training centers) that you can search through: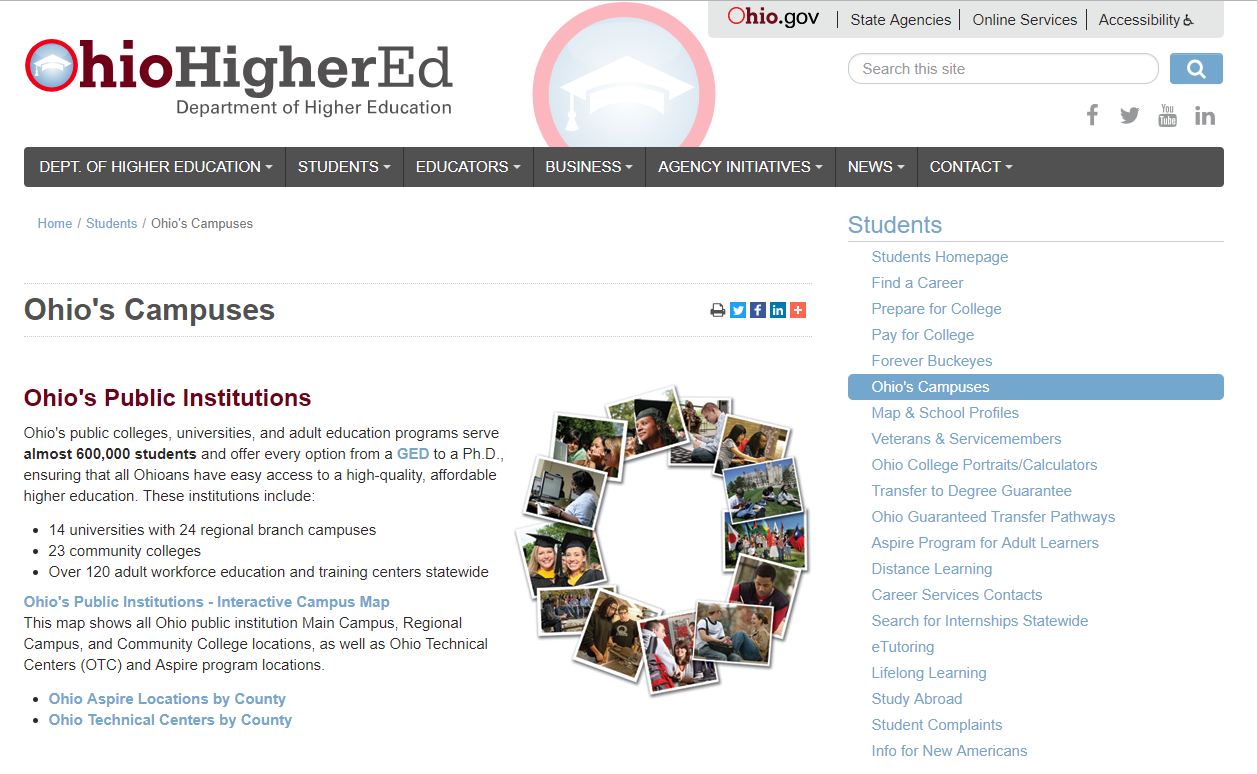 Explore Ohio technical center programs at OhioMeansJobs
It's possible that the job you does not require a four-year degree. That's where researching different Ohio technical center programs at OhioMeansJobs can help!
Visit here, and you'll see a list of different schools, the programs offered, and the school locations: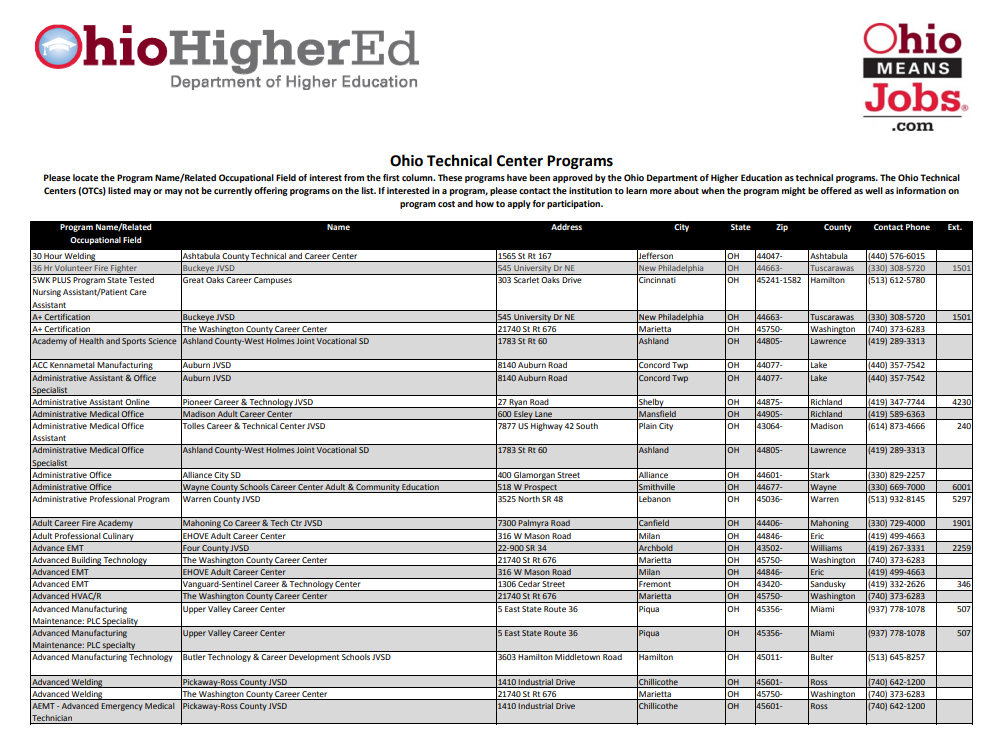 Want to stay local? Try one of the nearby career centers for high school students and adult students
Ottawa County residents are fortunate to have several career centers within a close distance that offer  different healthcare training programs for people of many age groups.
They include:
1) Penta Career Center – Perrysburg, OH
Website: http://www.pentacareercenter.org
Healthcare Programs:
Dental Assistant
Exercise Science and Sports Medicine
Medical Office Management
Medical Technologies Academy
2) EHOVE – Milan, OH
Website: http://www.ehove.net/
Healthcare Programs:
EMS
Exercise Science & Rehab Therapy
Massage Therapy
Medical Assistant
Nurse Aide/Home Health Aide
Practical Nursing
Surgical Technology
3) VSCTC (Vanguard-Sentinel Career & Technology Centers) – Fremont and Tiffin, OH
Website: http://www.vscc.k12.oh.us/
VSTC has three different locations: Vanguard Tech Center (Fremont), Sentinel SCTC (Tiffin), and Adult Education (Fremont).
Healthcare Programs:
Health Careers Academy
Medical Careers Academy
Medical Information Technology
State Tested Nurse Aide
Graduated – or about to graduate? It's time to make your resume, get ready to interview, and find the job you want.
Once you near the end of your training program or degree program, you're ready to really begin your healthcare career in Ottawa County. Thankfully, there are many different resources to help you be successful in your job search….
Use the free career resources at OhioMeansJobs Ottawa County in Oak Harbor
Ottawa County prides itself on being a supportive community and is here to help you in any way we can.  That's why OhioMeansJobs Ottawa County in Oak Harbor offers free career resources to help you find the job you want.
Stop by, and you can check out their job board, attend a job search workshop, get career advice, and more.
Address: 8043 W. State Route 163, Oak Harbor, Ohio 43449
Phone: (419) 707-8605
Fax: (419) 898-1749
Hours: Monday-Friday, 8:00 AM-4:30 PM
Use OhioMeansJobs to search for job openings and find out about upcoming career fairs and workshops
OhioMeansJobs is a trusty resource throughout all aspects of your career, from high school to graduation, and is a fantastic website to use to start your healthcare career in Ottawa County.
For example, you can search for jobs locally:

Additionally, if you'd like to attend a career fair or a job search workshop, you can look for upcoming opportunities and sort by both the county and the type:
CareerOneStop!
We've mentioned CareerOneStop more than once in this guide and have to include it again as another great resource for anything about careers.
In addition to looking for jobs there, you can also get examples of resumes and cover letters: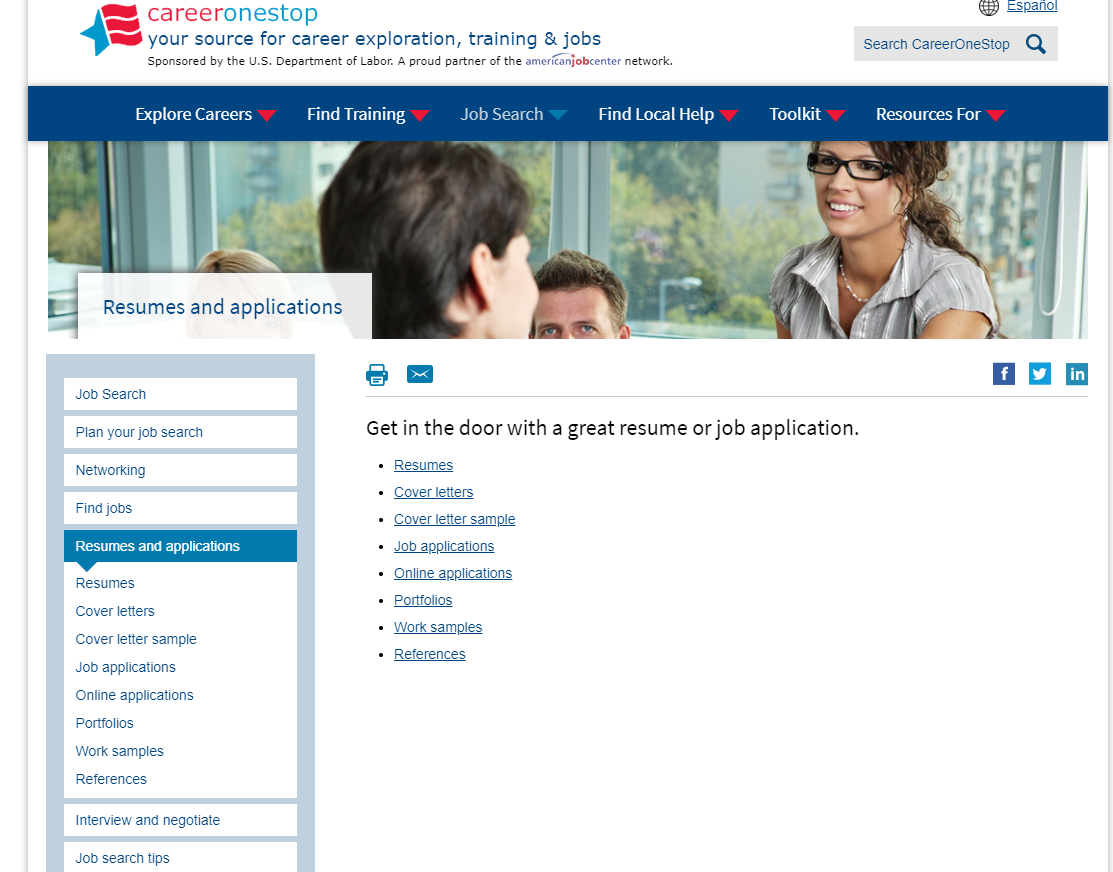 6 Other Job Search Websites to Bookmark
Besides OhioMeansJobs and CareerOneStop, there are six other websites we recommend that you use to find jobs and/or read articles about resumes, cover letters, and interviews:
Apply for local healthcare jobs!
The easiest thing you can do is apply for jobs directly at any of the healthcare facilities in Ottawa County, which offer many opportunities for healthcare positions of various kinds.
Macgruder Hospital
Macgruder Hospital is one of the featured employers we highlight on our website, and for good reason: it's the largest healthcare employer in our area, is growing quickly, and is actively looking for job seekers like you who want to start out a healthcare career in Ottawa County.
Watch this video to learn more about what it's like to work at Macgruder Hospital:
To apply for a job at Magruder Hospital, visit their career section here and see what's available!
Assisted Living Facilities & Retirement Homes
If you're interested in working in an assisted living facility or a retirement home, there are a few in Ottawa County to check out:
Conclusion
Ottawa County is the perfect place to find the job you want and start out a career in healthcare.
Have any questions? Interested in additional resources or taking part in any of the programs we talked about in this guide? Leave a comment below or contact us today!